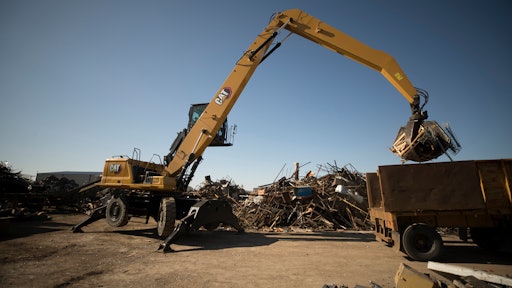 Caterpillar Inc.
Caterpillar Inc. has expanded its material handler lineup with the new MH3040. The machine is a replacement of the previous M325D L MH model and built upon the company's next generation excavator platform.
"[It] comes with all of the features and benefits that we have been introducing with those new excavation products," which help enhance performance and operator comfort, says Brent Uitermarkt, Worldwide Product Manager at Cateprillar Inc.
With these features the machine offers up to a 25% reduction in fuel consumption—compared to the previous M325D L MH—as well as up to 20% lower maintenance costs.
Key features of the new 40 metric ton material handler include its maximum reach of 50 ft. (15.2 m) and the ability to attach a grapple of up to 2 yd.3 (1.5 m3) or log loader tool of up to 8,055 lbs. (3,650 kg).
Proven components ensure reliability
With new machines like the MH3040, there is a focus on using proven Caterpillar components and structures. "We're leveraging these components and structures from a variety machines that have been in the field for quite some time, and have been improved upon to match up with the MH3040," says Matt Santee, North America Product Application Specialist at Caterpillar Inc.
Caterpillar chose to leverage the undercarriage from its M325D L MH for the new MH3040. Santee says it has been used in the field for over 15 years and proven to be a durable and reliable component. For the MH3040, the company did make some improvements to the undercarriage to ensure it matched the machine's weight and hydraulic power. The undercarriage is wheeled, ensuring mobility and stability in the various applications in which the machine would be used.
The upper portion of the machine leverages components from Caterpillar's next generation excavator platform. These include a C 7.1 Tier 4 Final compliant engine providing up to 204 hp (152 kW). Santee says this is married with the company's EH Hydraulic system which helps increase efficiency regarding hydraulic flow and fuel consumption.
Cooling packages developed for the next generation excavator platform are also included on the MH3040. EH fans are standard on this machine, says Santee, which means customers operating in mill yard applications where it's dustier or indoor waste environments will be able to benefit from the auto reversing capabilities of the fans. "These will be able to be toggled on and toggled off depending on the application," he explains. "They'll [customers] be able to manually push them on or set them on a timer for their application as well."
The next generation excavator cab design is utilized on the new material handler, as well. Santee says core design aspects of that cab are used along with improvements and features tailored specifically for material handler applications. Instead of a steering wheel, the MH3040 is solely controlled by joystick steering. This helps improve visibility for operators, as well as comfort by providing them with more leg room and easier entry and exit. "For many operators, they're going to spend 10-12 hours in this cab a day. We wanted to make sure it was as comfortable as possible for them," says Santee.
A tip-up left console in the operator cab also makes it easier to enter and exit the machine. An automatic climate control system run through the monitor, as well as heated and ventilated seat helps keep operators comfortable no matter the weather conditions.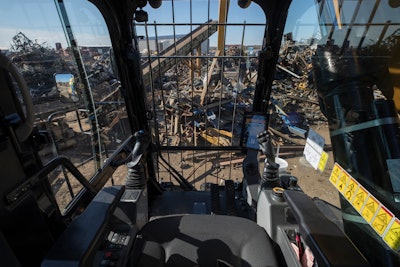 Cab risers and front structures on the machine are the same as those used on the previous M325D L MH model. Initially there will be one material handler boom and two drop nose stick options. There will be a long drop nose stick primarily for scrap applications that will provide 50 ft. (15.2 m) of reach and a shorter drop nose stake with 47 ft. (14.3 m) of reach for mill yard applications.
Santee says Caterpillar made some geometry improvements to the front structures to enable customers to load and haul the machine without removing the stick. "That saves them a significant amount of time and money," he says. "[Customers can] fold the stick underneath and load [the machine] on a truck. They'll still have to remove the grapple, but there are significant improvements in regards to transport."
The boom, stick and other high-stress areas of the machine are reinforced with thick, multiplate fabrications, casting and forgings to ensure durability of the machine.
An optional 20 k solid-state generator is available which expands the material handler's capabilities and provides enough power for the use of a magnet.
Efficiency gains
There are a variety of features included on the MH3040 which aid overall machine efficiency as well as customer productivity. Swing speed, for instance, has improved by 12% which provides faster cycle times for customers.
By including reversing fans as standard on the MH3040, parasitic loads on the engine are reduced which contributes to the efficiency gains of this machine. They also keep the machine clean without interrupting the work at hand, minimizing unplanned downtime and aiding productivity.
Selectable power modes are also integral to the efficiency improvements by allowing operators to match machine performance to the job. Smart Mode automatically adjusts engine and hydraulic power to work conditions to save fuel. Power Mode is designed to constantly provide maximum productivity.
Maintenance cost reductions are achieved in part by the use of electrohydraulic controls. They eliminate the need for pilot lines and filters which drastically reduces the number of hydraulic hoses and fittings used on the machine, says Santee, and thus the amount of wear parts. Use of a new hydraulic oil filter provides improved filtration performance and is longer lasting, both of which help reduce the amount of maintenance necessary on the machine.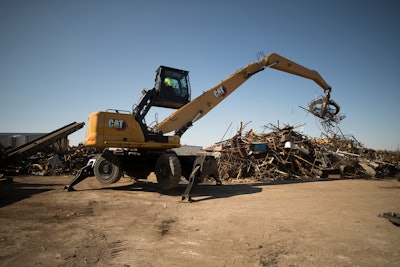 The layout of the operator cab benefits operator productivity and efficiency, as well. "A lot of thought went into the layout as cab controls are intuitively placed so they're in front of [operators]. There's no need to reach behind to adjust the radio or over to the right side to adjust climate control," says Santee.
The joystick controls are programmable, allowing operators to customize and save their operating preferences with a few clicks on a touchscreen monitor. This enables operators to get to work quickly and easily each day.
According to Santee, the heart of the machine is its 10-in. (254-mm) touchscreen monitor as it displays all vital machine health information and aids with many machine functions. It also provides video feeds from the MH3040's standard rear and right-hand side view cameras which expand visibility for operators to ensure optimal safety and productivity on a job site.
Shipments of the new MH3040 material handler to customers in North America will begin in July 2020. Both scrap and mill yard configurations will be available, says Uitermarkt, with additional options, such as a straight boom and stick for logging applications, coming in 2021. Availability of the machine in other markets such as Europe is also anticipated next year.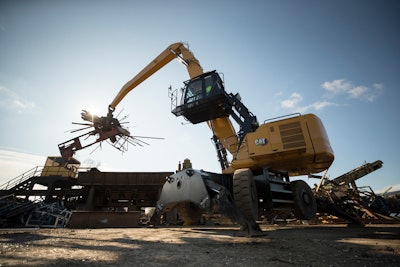 Companies in this article