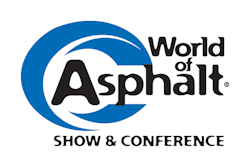 Nashville Music City Center
Nashville, TN
US
World of Asphalt is an annual event dedicated to exhibiting the latest products in the asphalt industry as well as providing attendees with educational opportunities. 
Originally scheduled to take place in 2021, organizers of the show have decided to postpone it until 2022 due to ongoing safety concerns regarding COVID-19. An all-digital education conference may be held in 2021; more details will be provided as they become available. 
Over 300 exhibitors are currently slated to be at the event, showcasing their products and services. Trucks and trailers, testing equipment, soil stabilizers, pollution control and pavement maintenance equipment are just of a few of the products that will be on hand for attendees to see. 
Educational sessions during the event are designed to enhance understanding of industry issues, trends and technologies.
World of Asphalt is co-located with AGG1 Aggregates Forum & Expo.