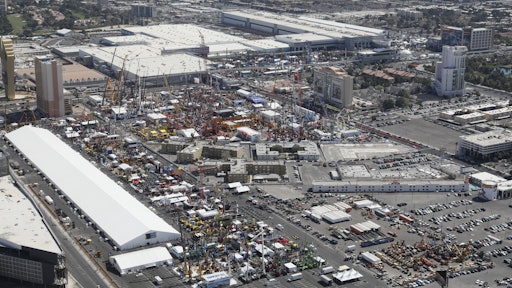 Association of Equipment Manufacturers
*Editor's Note: This article was first published on March 20, 2020 and updated March 8, 2021 with new information. Information is accurate as of the date of publishing; however, dates and information could change at any time. Please be sure to check event websites for the most up-to-date information and before making any travel plans.
The 2020 edition of CONEXPO & IFPE seems a long-ago memory at this point as it was the last industry event I attended. Much of the world went into stay at home orders not long after the show, particularly those located in the U.S. At the time the situation was extremely uncertain and many in the industry were still anticipating having a whole year of travel ahead of us in 2020.
For the OEM Off-Highway staff and many of our readers, travel to trade shows, conferences and seminars provides an opportunity to see what is happening in the industry.
However, in light of health concerns regarding COVID-19, many events in 2020 were either postponed or held in a virtual format. The latter has provided many of us an opportunity to continue staying engaged and learning about the newest technologies and trends.
As we start 2021, there is still much uncertainty surrounding the pandemic as many regions of the world are still attempting to control the virus or seeing new waves of infections. Because of this, several events set to be held in 2021 are looking to go virtual or postpone for later in the year--particularly those scheduled to take place early in the year.
In an effort to keep our OEM Off-Highway readers informed, we have collected a list of upcoming events that have been postponed or gone virtual, and their new dates, if available. We will continue to update this list as more information is announced, as well as update our Events page where you can find these and all other relevant industry events.
2021 events shift to meet industry needs
Virtual and in-person offerings
Some events scheduled to occur in 2021 have announced they will provide digital and in-person offerings, including SAE COMVEC and Agritechnica. COMVEC, currently scheduled for Sept. 14-16, will feature socially-distanced networking opportunities, as well as presentation sessions and an exhibit hall for its in-person event. The virtual portion will include three livestreamed keynote presentations, digital networking and a virtual exhibit hall.
According to organizers, AGRITECHNICA digital aims to combine the live experience of the trade fair itself with an innovative online digital information and networking space. It will be available online 6 months before the in-person event. Exhibitors and attendees will have the chance to network online and present technology offerings.
Sister event AGRITECHNICA ASIA & HORTI ASIA are also featuring a digital platform as part of their show, which is currently scheduled to take place in May 2021. It combines the live experience of the trade fair with accompanying digital information and networking online. The digital platform went live in October and will stay online until the end of May.
FederUnacoma, organizer of EIMA International, recently announced the biennial agricultural industry event has been pushed back to October 2021. The show was set to take place in February—months later than its originally scheduled occurrence in November—but has been postponed due to the ongoing safety concerns related to the coronavirus pandemic.
Organizers hope that by pushing the show back to October, the health emergency will be better resolved, making it easier for attendees, exhibitors and staff to be at the show.
While several safety measures had been put in place for the February event (see below under Safety subhead), it was deemed best to further postpone the show.
Work Truck Show and Green Truck Show goes virtual for 2021
NTEA, organizer of the jointly located Work Truck Show and Green Truck Summit, announced in October it was canceling the 2021 shows. "After extensive and careful deliberation, we have realized a typical Work Truck Week is not possible in 2021. The health and safety of our attendees, exhibitors and staff is paramount, and was a driving factor in the Board of Directors assessing the feasibility of the 2021 event," said Board of Directors Chair Peter Miller and NTEA President & CEO Steve Carey in a joint statement announcing the decision to cancel the show.
The shows have been rescheduled for March 8-11, 2022 in Indianapolis, IN.
On December 1, NTEA announced Work Truck Week will be held virtually in 2021. From March 8-12, the online event will provide insight into the latest work truck innovations, updates from chassis manufacturers, as well as economic analysist pertinent to the industry. More information will be forthcoming once available.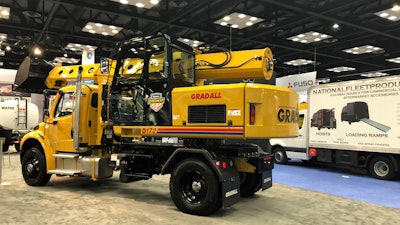 World of Concrete changes dates
One of the first big construction industry events to take place in 2021, World of Concrete, announced it would move its dates to later. Originally scheduled to take place in January, it will now be held in June. The decision was made based on discussions with key stakeholders and industry feedback.
According to show organizers, holding the show later in the year when it's warmer will allow for more outdoor activity.
The show is currently set to take place June 8-10 in Las Vegas.
World of Asphalt and AGG1 Academy & Expo won't be held in 2021
The Association of Equipment Manufacturers (AEM) announced on Nov. 5 that the Executive Committee of World of Asphalt Show & Conference and AGG1 Academy & Expo had decided to not hold the combined in-person events in 2021. This is due to ongoing concerns over the COVID-19 crisis; the decision was made after much deliberation by show organizers as well as with exhibitors, attendees and other stakeholders, says AEM.
"Together we made the difficult decision to not hold World of Asphalt and AGG1 in 2021 in Atlanta," said Audrey Copeland, President & CEO of the National Asphalt Pavement Association (NAPA) in the announcement about the postponement of the show. "The health and safety of all participants in the show is our highest priority, and with the status of the pandemic in the U.S., we believe the responsible choice is to not hold the show in 2021 and focus our sights on 2022 in Nashville."
The next in-person World of Asphalt and AGG1 is planned for March 29-31, 2022 at the Nashville Music City Center in Nashville, TN.
NAPA and AEM are exploring the option of hosting an all-digital education conference in 2021 in lieu of the in-person event. More details will be announced as they become available.
NFPA Annual Conference goes virtual
The National Fluid Power Association's (NFPA) Annual Conference will be held as a virtual event in 2021. As such, NFPA says the conference will feature a lineup of speakers each morning, committee meetings in the afternoon and networking opportunities throughout the day.
This annual event brings together the fluid power industry to discuss the latest topics and trends. Presentations at the 2021 event will feature topics such as examining complex world and U.S. events and leading during a volatile and ambiguous business climate. Economic updates and forecasts will also be provided.
Commodity Classic to be held virtually
Commodity Classic, an AEM Collaboration will be held in March as planned but as a virtual event. Organizers of the show have chosen to do so because of ongoing concerns and restrictions related to the global health crisis.
Official dates have not yet been announced, but are tentatively planned for the first week of March. The show is planned on being held in person again in 2022.
New safety measures put in place
Several shows set to take place in 2021, some of which were postponed from their original 2020 dates, are thus far still taking place as planned.
This international agricultural industry show was postponed in 2020 and is currently still scheduled to take place in February 2021. EIMA organizers have announced several safety measures will be put in place for the 2021 show to protect staff, attendees and exhibitors from the spread of COVID-19. These include separate entry and exit routes, wearing of masks, and temperature checks.
To help exhibitors and attendees prepare for the show, a digital preview event was held November 11-15 during which several presentations were given highlighting technologies and trends in the agricultural industry.
Mid-America Trucking Show to host 50th anniversary show
Organizers of the Mid-America Show are currently planning to hold the show in person, after having to cancel the 2020 edition (see below list of 2020 event cancellations). This will be the 50th anniversary of the show which is one of the largest U.S.-based shows for the heavy-duty trucking industry.
Show organizers say they are continually evaluating safety measures, and working with local businesses as they go through their reopening plans. As part of its safety efforts, organizers are working to better enable social distancing by widening aisles, promoting best practices such as wearing masks and avoiding hand shakes, and increasing cleaning and sanitizing throughout the event facility. The entire list of safety plans can be found on the show's website.
INTERMAT to bring construction industry to Paris
Held once every 3 years in rotation with CONEXPO and bauma, INTERMAT is currently scheduled to take place again in 2021. It will bring together the international construction industry to see the latest technologies, equipment and trends.
Organizers for the show have dedicated a page on the event's website to safety protocols to follow. Masks will be required, as well as proper hand sanitation and limiting physical contact. Foot traffic control and physical distancing measures have also been put in place to help ensure the safety of those at the show.
Registration is currently open for the show.
MINExpo sets dates for 2021 show
The largest mining industry event, MINExpo, is typically held once every 4 years. Originally scheduled to take place in 2020, organizers decided to postpone it until 2021 due to the global health crisis (see below list of 2020 event cancellations). The National Mining Association (NMA), sponsor of the show, has announced the show will take place September 13-15, 2021 in Las Vegas, NV.
NMA says it will develop appropriate protocols to ensure the safety of all attending and working at the event. Further details on these safety measures, as well as about the show itself will be provided once they are announced.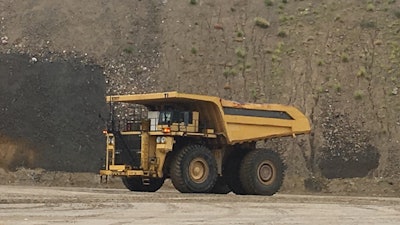 2020 events which were postponed, canceled or held digitally
Show ownership and management of GIE+EXPO, the Green Industry Equipment and Exposition, have decided to postpone the show until 2021. The decision came after much deliberation, monitoring of the current COVID situation, as well as discussions with state and local authorities in Kentucky.
"The health and safety of our attendees and exhibitors is critical, and it is with profound regret that we announce the cancellation of our 2020 event," said Kris Kiser, President and CEO of OPEI, and managing partner of GIE+EXPO, in the press releasing announcing the postponement. "We're looking forward to 2021 and already gearing up to make our next show a dynamic and engaging experience for the entire industry. I encourage exhibitors and attendees that have already registered or secured exhibit space to roll those monies forward to the 2021 show."
bauma CONEXPO INDIA (formerly bC India)
Organizers of bauma CONEXPO INDIA have decided to postpone the event until February 2021 due to ongoing uncertainty regarding the coronavirus pandemic, as well as current travel restrictions in India.
"We have arrived at the decision to postpone bauma CONEXPO INDIA after thorough market assessment and consultation with our key stakeholders. The postponement is in the best interest of the exhibitors and visitors," said Bhupinder Singh, CEO, bC Expo India Pvt. Ltd. in the press release announcing the decision to postpone the event.
The Battery Show and Electric & Hybrid Vehicle Technology Expo
The U.S. editions of these co-located shows focusing on the latest battery and hybrid and electric vehicle technologies has been postponed until 2021. Organizers state on the events' website decision was made based on the continued uncertainty surrounding the COVID-19 pandemic and guidance from the state of Michigan where the show is held.
The shows will take place September 14-16, 2021 at the Suburban Collection Showplace in Novi, MI.
On August 12, 2020, a new virtual event called Digital Express will be held. Its aim is to provide a way for the battery and EV/HEV industry to still connect and engage through digital activities which include educational content, networking events and a virtual product showcase. Details can be found on the event's website.
Farm Progress Show and Husker Harvest Days
The 2020 editions of the annual Farm Progress Show and Husker Harvest Days have been cancelled. Organizers of the shows say that while there continues to be interest from farmers and exhibitors in having the events, continually changing conditions regarding the COVID-19 pandemic has caused them to make the decision to cancel the shows.
Organizers had previously announced the shows would continue with several safety practices put in place. However, continued spikes in COVID cases across the U.S. and other parts of the world prompted a change in decision to protect the health and safety of visitors, exhibitors, partners and staff.
"We have a multi-generational audience that travels from all across the country and around the world to attend the shows and based on that we felt it better to reconsider the traditional show for 2020 to prioritize the safety of all. Our community's safety is our priority, always," said Matt Jungmann, Events Manager, Farm Progress, in a recent press release announcing the cancellation.
"Within the next two weeks tents and other work would be underway on site. We had to make a decision based on the current landscape so that our exhibitors and suppliers wouldn't potentially waste valuable time and resources," said Jungmann. "While we are hopeful that case numbers throughout the country will decrease soon, we felt compelled to make a proactive decision on our community's behalf, given the information we have today."
A possible virtual event is in the planning stages. Both shows will take place again in 2021.
Great Lakes Logging & Heavy Equipment Expo
The Great Lakes Timber Professionals Association, organizers of the Great Lakes Logging & Heavy Equipment Expo have announced the cancellation of the 2020 show. They said in a statement it was not an easy decision to make, but was necessary to ensure the safety of attendees, exhibitors and residents in the county where the event was to take place.
Currently organizers are planning to hold the event again in 2021 which will be the 75th anniversary of the show.
The 2020 edition of the Heavy Duty Dialogue will be held as a virtual, one-day event in September. This event provides discussions of strategies, trends, and economic and world developments which impact the heavy-duty on- and off-road vehicle and equipment markets.
Several speakers are already scheduled for the event, and registration is open.
NFPA Industry & Economic Outlook Conference
The National Fluid Power Association (NFPA) has decided to hold its annual economic outlook conference as a virtual event in 2020. It will be spread out over three days in half-day sessions. Registration is now open for this year's conference.
The biennial event focused on the latest technologies and trends in the commercial vehicle space has decided to cancel the 2020 event. Ongoing concern over COVID-19, as well as travel restrictions in many areas and limits on large gatherings persuaded the organizers to cancel the event.
It will occur again in September 2022. All registered exhibitors have been informed to help minimize any potential economic consequences, says the VDA which organizes the show.
SAE COMVEC Technology Connection
The Society of Automotive Engineers (SAE), organizers of the COMVEC Technology Connection recently announced the event which is set to take place September 15-17 will now be a virtual event instead of an in-person one. SAE says on its website this decision was made due to continued uncertainty regarding COVID-19 and the desire to ensure the safety of attendees and exhibitors.
SAE says the virtual event is planned for September 15-17, and additional information will be made available in the coming weeks.
Originally scheduled to take place in May, WasteExpo has now been rescheduled for September and will be held as an online event. Details are still in the planning stages and will be provided once available.
International Fluid Power Conference (IFK)
Organizers of the 12th International Fluid Power Conference recently announced the show has been postponed until October 12-14, 2020.
"The last few months have been a completely new experience for all of us, and in some cases were full of hardships. This applies both privately and professionally," says Prof. Jürgen Weber, part of the show's organizing team. "But we see the postponement of the IFK as an opportunity that offers all of us a real chance to present ourselves, at a time when everyone is keen to share new developments and insights and finally break out of the vacuum that we have gone through. I'm therefore convinced that the event in October will be a huge success for all participants".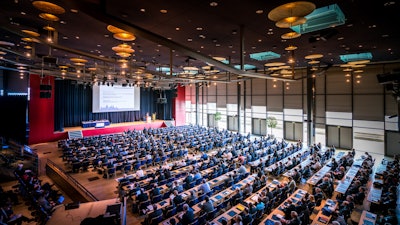 The National Mining Association (NMA), organizers of MINExpo International announced on May 14 their decision to postpone the show until September 2021. According to a statement on the event's website, continued uncertainty over the COVID-19 pandemic has made holding the show in September 2020 "impractical under the circumstances." NMA says in that statement "its highest priority [is] the health, well-being and safety of exhibitors, attendees, stakeholders and their respective families and colleagues" and that it is in the best interest of all concerned to postpone the show until next year.
NMA still currently plans on holding the show in Las Vegas, and says it will announce exact dates once all logistics arrangements have been made.
AEM's Product Safety & Compliance and Product Liability seminars
Originally scheduled to take place April 27-30, 2020, the Association of Equipment Manufacturers (AEM) has decided to reschedule these annual seminars. The seminars are now scheduled to take place August 24-27, 2020 and will be held at the Westin Chicago Northwest.
Organizers for the Advanced Clean Transportation (ACT) Expo have announced the 2020 is rescheduled for 2021. It is set to take place May 3-6. A notice on its website says all current registrations will be transferred to the new dates.
This year's NIWeek, initially rescheduled to take place August 3-5, has now been cancelled. Organizer of the event NI (National Instruments) notes the decision was made in order to keep all involved safe due to continued uncertainty surrounding the COVID-19 situation. It is evaluating alternative means of brining information to its engineering customer such as webinars and livestreams.
Organizers for EIMA International, a biennial agricultural industry event which takes place in Italy, recently announced the show has been postponed until February 2021.
"The decision to postpone the great traditional EIMA until the beginning of next year stems from a careful logistical and economic assessment, since it is extremely likely that exhibitions may still be affected in autumn by specific government ordinances, and the transport and services system may still be slowed down due to the precautionary measures that will still be in place both in Italy and abroad," explains Alessandro Malavolti, President of FederUnacoma, the federation of Italian manufacturers that is the direct organizer of the event in a press release announcing the postponement.
However, there are plans to host a virtual pre-show event November 11-15, 2020 when the show as originally scheduled to take place. The "EIMA Digital Preview" aims to provide a new experience for highlighting many of the technologies which will be shown at the live event which takes place February 3-7, 2021.
The annual event which typically takes place in April has been postponed until 2021. While a July 2020 date was first proposed, continued uncertainty regarding COVID-19 and the safety of all involved with the show has lead organizers to postpone the show. It will now take place April 12-1, 2021.
In the meantime, several manufacturers are presenting the new technologies they would have premiered at the 2020 show on the Hannover Messe website. You can also follow the social media hashtag #HM20 to see these technology premieres directly from the companies themselves.
Organizers of the Movin'On Summit—a sustainable mobility event organized in part by Michelin—has been cancelled for 2020. Florent Menegaux, President of the Michelin Group, and Honorary President of Movin'On, said in a press release on the cancellation, "Faced with this unprecedented global health crisis, the main priority of the Movin'On team is to protect the health of our employees, our ecosystem partners and our participants. This is why we have decided to cancel the Movin'On World Summit, which was planned to take place in Montreal."
Instead, digital meetings have been scheduled for June 3-4, 2020 which will provide insight into some of the sustainability work that would have otherwise been highlighted during the show in Montreal.
While originally postponed, organizers of the AEF Plugfest have decided to cancel the spring event due to the continued health and safety concerns associated with COVID-19. AEF is currently still anticipating holding its fall event in Europe which is set to take place October 13-16, 2020, in Stuttgart.
Organizers for the show say the decision to postpone the 2020 show until 2021 was a difficult one but that "In light of today's extraordinary circumstances and with an abundance of caution, this decision has been made with the health and safety of our attendees, exhibitors, employees, and show partners in mind. "MATS has a proud tradition…[and] will return stronger than ever in 2021, and will focus on an unforgettable 50th-anniversary event – March 25-27, 2021 in Louisville, KY."
The WCX 2020 World Congress Experience, originally scheduled for April 21-23, in Detroit, has been cancelled. Formerly known as SAE World Congress, the show currently does not have new dates; once available, they will be posted on our Events page.
The biennial event PaintExpo was originally set to take place in April, but has been postponed until October 12-15, 2020. It will still take place at the Karlsruhe Exhibition Center in Karlsruhe, Germany.
SPIE Defense + Commercial Sensing 2020
This annual event focused on sensing technologies has taken a different approach; instead of cancelling or postponing its event, scheduled for late April, organizers are making the conference a digital forum instead of an in-person event. In this way, attendees can still get the information they would have received.
Initially scheduled to take place in May, organizers of WasteExpo have rescheduled for August 10-13, 2020.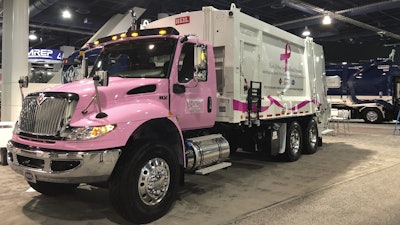 Organizers of the show announced on March 13 the show—scheduled to take place May—would be postponed until October 21-25, 2020. The event will now be held alongside Oil&nonoil, an energy, fuel and mobility services trade fair scheduled for October 21-23. This will provide attendees of both shows an even wider breadth of new products to see.
The Battery Show Europe and Electric & Hybrid Vehicle Technology Expo Europe
The European editions of these shows are typically held in the spring. However, organizers have decided to postpone until October 15-17, 2020—just one month after the U.S. versions of the shows. They say they "are committed to running the conference and exhibition in 2020 and are currently working with the Messe Stuttgart venue and are constantly monitoring communications from local, state, and federal agencies to proceed with the event in a safe manner."
Expo Grands Travaux and Atlantic Heavy Equipment Show
Both Canadian-based heavy equipment events are put on by Master Promotions, which has decided to postpone the shows for the time being. It will announce new dates when possible.
Originally set to take place in early May, the organizers of Agritechnica Asia have chosen to postpone the show until October. "Moving the event to October gives us confidence that we can deliver AGRITECHNICA ASIA and Horti ASIA [a co-located show] to our international standard and maximize business opportunities to all parties," said the organizers in a statement regarding the postponement.
The 2020 edition of the biennial Hillhead—which is held in a quarry in the U.K.—has been postponed until June 2021. Hillhead Event Director Richard Bradbury explains, "The health and safety of exhibitors, visitors, contractors and employees is our number one priority and with the peak of the epidemic predicted to coincide with the show in June, this would be severely compromised.
"Following an extensive consultation process, the decision has been taken to delay the event by a year to allow market conditions to stabilize and to best support the construction and quarrying industry during this challenging period."
Have other events you think we should add to our page or you know that has changed dates? Let us know by emailing editor@oemoffhighway.com.