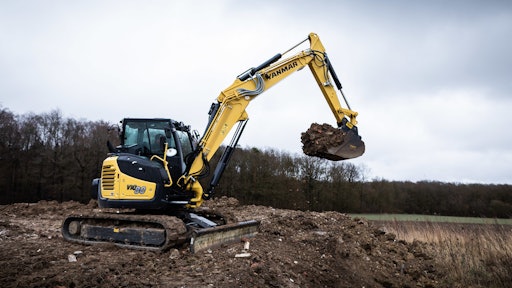 The ViO80-2PB, a new midi excavator by Yanmar, has the performance of a large machine and the advantages of a compact excavator. Designed to work effectively on a wide range of construction sites, it combines performance, versatility, comfort and reliability. With this machine, Yanmar once again underlines its position as a leading manufacturer in the compact equipment sector.
The 8-ton midi excavator convinces with an adjustable boom of a unique design. The additional articulation of the boom improves the machine's maneuverability and precision when positioning loads, as it can be lifted faster and lowered slower. A mono-cylinder is located in the upper part of the boom, reducing the excavator's own weight and increasing its stability. With a very slim structure, the boom also possesses one of the best views in the market. For efficient and precise work in darkness, the standard version of the ViO80-2PB has three LED lights in the boom and at the front of the cabin. The LED technology provides strong light with reduced energy consumption, increasing the battery life.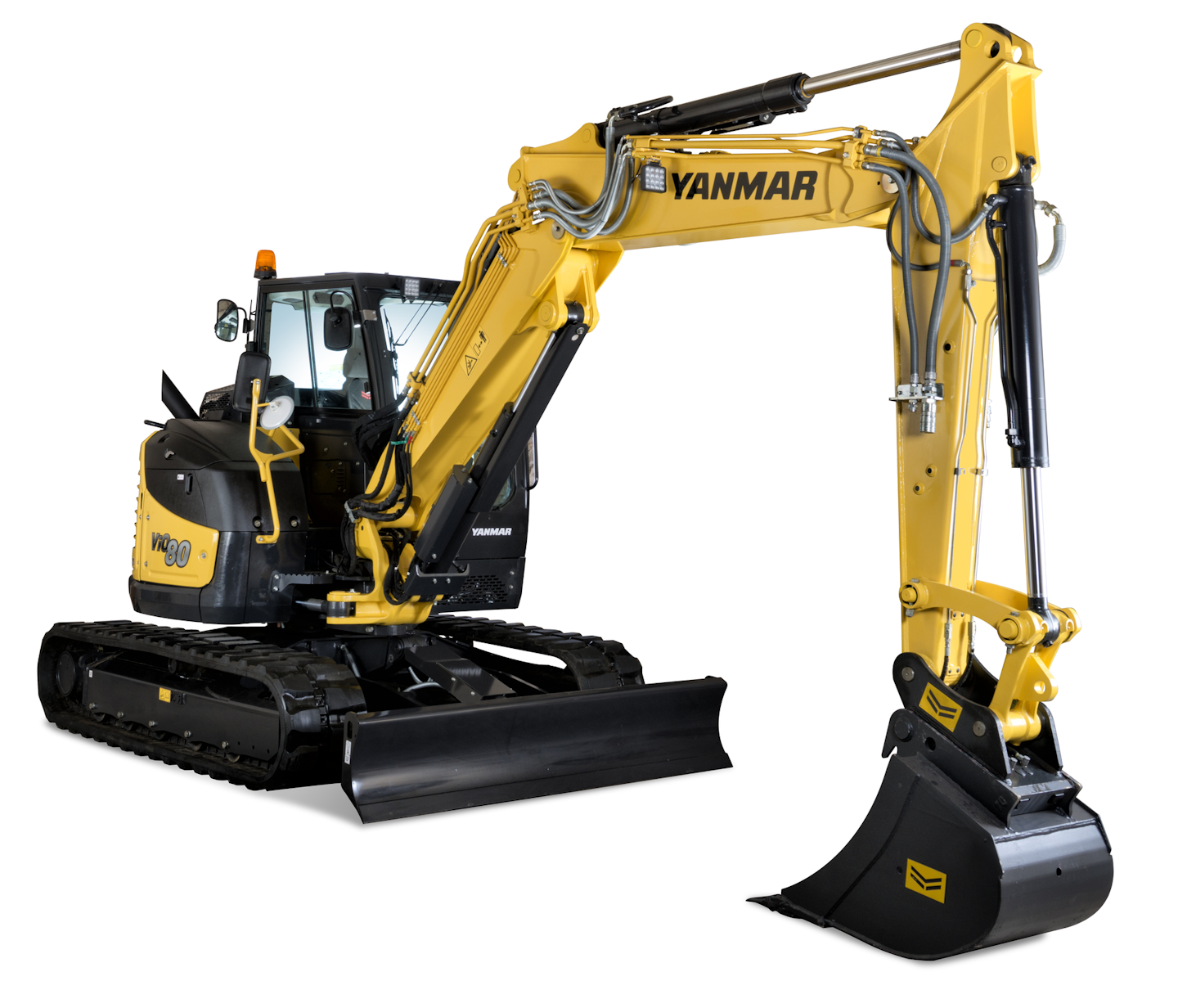 What is also new: The ViO80-2PB is equipped with the Yanmar 4TNV98C-WBV1 engine, with 55.6 hp and a direct injection Common Rail System. The fuel injection is controlled and adjusted by an electronic control unit, ensuring clean combustion and optimum operating conditions for the engine. The cooled exhaust gas recirculation and diesel particle filter strongly reduce nitrogen oxides and pollutant emissions. The excavator fulfills the EU exhaust gas regulations. Also, it is by default equipped with an automatic idling function and Eco mode. 
The operator is always in the focus of Yanmar's design initiatives. Therefore, the "Universal Design" concept offers an ergonomic environment, an exceptional level of safety and excellent visibility. The design of the cabin provides a 360-degree panoramic view. This helps improving safety on the job site while enabling more efficient work. The air-suspended driver's seat has many adjustment options to help the operator find the optimum seating position. The dashboard and the armrest have been redesigned, the footwell area has been enlarged and the cabin access improved - all for enhanced operator comfort. 
With the ViO80-2PB, the Yanmar midi excavator range now includes seven models for all application areas. Whether building construction, landscaping, earthworks, levelling, demolition or road construction - every user will find the right machine for his needs.