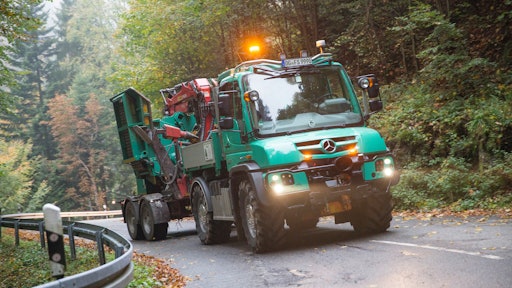 Attention all forestry workers and professionals: In the outside area of the 13th INTERFORST show from July 18-22, 2018 in Munich, Mercedes-Benz Special Trucks is for the first time represented with its own stand (open area F10, stand no. 1010/3). On display are specific vehicle variants and innovative implements based on the universal implement carrier, the Mercedes-Benz Unimog. This forestry all-rounder is tailor-made for year-round use by municipal forestry departments, private forest owners, forestry managers and contractors.
The INTERFORST show is the leading international fair for the forestry sector. At 4-year intervals it presents future-oriented solutions for the entire timber and forestry sector. In 2018 a total of 451 exhibitors are displaying their products on an area of over 70,000 sq. m. In 2014 the show had 50,000 visitors from 72 countries.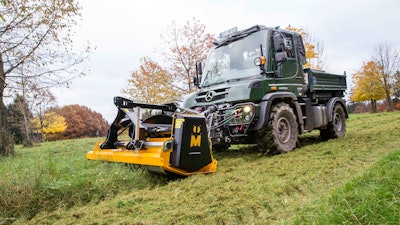 Three highlight exhibits
Three highlight exhibits of the Unimog implement carrier series show the great bandwidth and flexibility of the Unimog in forestry applications. On display at the 2018 INTERFORST show are a Unimog U 529 with a two-axle tandem push-trailer by Fliegl and a Unimog U 530 with long wheelbase equipped with a front-mounted chipper by Schliesing Machinery GmbH; its cable winch and high-level bucket loader are by Fahrzeugbau Huber GmbH in Chemnitz. Also presented is a Unimog U 530 with a height-adjustable cab by Werner Forst- und Industrietechnik GmbH. This is for professional operation of the body-mounted crane and the towed chipper by Jenz Maschinen- und Fahrzeugbau with which this exhibit is equipped. With this combination of implements, the Unimog will exhibit its outstanding performance potential during various live demonstrations taking place on the Mercedes-Benz stand during Interforst 2018.
Fast, maneuverable, high in traction and environmentally friendly in forestry applications
As a universal, professional implement carrier with a high payload and towing capacity, the Unimog is available for use 365 days of the year, and dependably takes care of a wide variety of applications related to forest management. In the spring it helps to maintain paths, in the summer it maintains wooded and green areas, in the autumn it chops timber and in the winter it clears the roads and paths of snow. Its compact dimensions make it particularly maneuverable – an important criterion when things get tight during the care and maintenance of forests, grassed areas and networks of paths. Auxiliary rear axle steering is available to reduce the already small turning circle by a further 20% or so, which further improves maneuverability.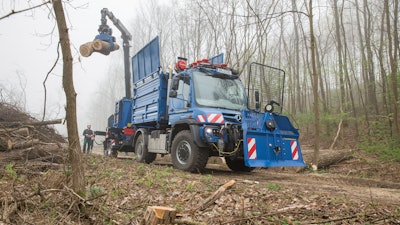 Thanks to its fast road speed of up to 80 km/h, the Unimog is always quick to get where it is needed. At the same time its outstanding off-road capabilities ensure good progress even on difficult terrain.
Also ready for municipal duties
The Unimog has four implement mounting spaces at the front and rear, between the axles and on the chassis, allowing installation of quickly demountable implements and superstructures. This means that the all-rounder can also take on other jobs whenever nothing needs doing in the forests. During this "forestry off-season" it can also be used for municipal tasks, e.g. mowing assignments in the summer or snow-clearance in winter service operations. Its high overall cost-effectiveness in year-round operation is in part due to the low fuel consumption and long maintenance intervals of 1,400 operating hours.
Unimog U 529 with ASW 271 Gigant tandem push-trailer by Fliegl
A Unimog U 529 with an ASW 271 Gigant tandem push-trailer (push trailer with tandem twin axle) by Fliegl Agrartechnik GmbH in Mühldorf am Inn can be seen on the Mercedes-Benz Special Trucks stand at INTERFORST 2018. A short wheelbase of 3,350 mm combined with a large steering angle makes the Unimog highly maneuverable. Its high engine output of 210 kW (285 hp) allows it to tow high trailer loads at motorway-compatible speeds of up to 80 km/h.
The U 529 − the 29 stands for around 290 hp − meets the Tier 4 Final (LoF) European exhaust emission standard for agricultural and forestry vehicles. Thanks to its LoF-registration as a tractor unit/agricultural tractor or tractor unit//implement carrier, the U 529 can be put to completely flexible use. As a positive side-effect, the U 529 can dispense with a diesel particulate filter, with a favorable effect on price.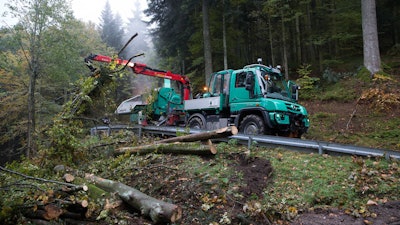 Depending on the type and moisture content of the load, the powerful, self-supporting pusher system of the Fliegl push-trailer is able to increase load capacity by compacting the material by up to 60%. This benefits the environment, as it reduces the number of journeys. A high level of stability is ensured by the low center of gravity. This means that wood chippings and other material can be reliably transported throughout the year, and unloaded safely even on inclines.
The Fliegl combination is shod with size 495/70R24 off-road tires, high-traction tires with an AS (agricultural tractor tread). The Tyre Control Plus tire pressure control system, which can be conveniently operated from the driver's seat, ensures higher traction which particularly comes into its own on unsurfaced or muddy terrain. By reducing the tire pressure it makes steady progress possible, for example after heavy rain, while sparing the ground surface as far as possible. Back on the road, the tire pressure is increased to normal again. This reduces tire wear.
The heavy-duty Unimog models U 527, U 529 and U 530 are specially designed for large trailer loads and tongue weights. A new rear subframe allows a tongue weight of up to three tonnes. This enables the Unimog implement carrier to tow center-axle trailers that tip the scales at up to 27 tonnes.
Unimog U 530 L with Schliesing 550 U front-mounted chipper and HK-S 6000/15 high-level bucket loader by Chemnitzer Fahrzeugbau Huber
The second exhibit on the Mercedes-Benz stand in Munich is an Unimog U 530 L with long long wheelbase (3,900 mm). It is equipped with a front-mounted chipper by Schliesing Machinery GmbH in Kempen. Its high-level bucket loader body and cable winch come from Chemnitzer Fahrzeugbau Huber GmbH. This vehicle not only scores in the forestry sector, but can also be used in gardening and landscaping, waste disposal, for intermediate transport duties and to load bulk containers. The shredded material can be filled into the permanently installed, side-tipper body without any other aids. Towing an additional trailer is possible without restrictions.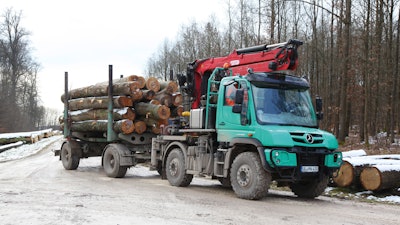 The implement combination on display is suitable for all working applications in the forestry sector that require the use of several implements. Whether used for regular timber cutting, timber harvesting or road/path clearance applications, or whether the combination is used as a compact and efficient unit to carry out gardening/landscaping/construction work,all the components in this vehicle solution are optimally coordinated. With its all-wheel drive, power take-off and power hydraulics, the Unimog U 530 provides the perfect basis for the high-level bucket loader. The high-level bucket loader has a basic load capacity of 15 cu. m, which can be increased to 55 cu. m in combination with a trailer. The front-mounted chipper has a 340 mm wide mouth, and can process trunks with a diameter of up to 300 mm. When dragging timber, the cable drum at the rear gives the cable winch a 250 degree operating range and can be remote controlled. The cable length of 60 m with a diameter of 12 mm provides adequate scope for this.

Unimog U 530 with HEM 583 Z height-adjustable cab by Werner und Hacker, with body-mounted crane by Jenz Maschinen- und Fahrzeugbau
A high power output is required to operate mounted implements such as the Jenz chipper, which has a very high power requirement for its drum and feeder. This is provided by the rear power take-off of the most powerful Unimog engine variant: the 7.7-L OM 936 engine of the Unimog U 530 delivers 220 kW (299 hp). The wheelbase of the Unimog is 3,350 mm, ensuring great maneuverability when negotiating forested areas where access is often difficult. This advantage also comes into its own during slow maneuvering, when the chipper has to be positioned precisely in confined spaces.
The height-adjustable cab was realised by Werner Forst- und Industrietechnik GmbH: thanks to its all-round view of the entire working area, it allows professional operation of the towed HEM 583 Z chipper with body-mounted crane and tree gripper.
The compact special body is able to process trunks with a diameter of up to 56 cm − or several trunks at once − without difficulty. They are fed into the mouth of the chipper by the tree gripper. The crane is powered by the Unimog's hydraulics as required.
Thanks to the power of the Unimog, even long tree trunks end up as high-quality wood chips of finger length within a few minutes. During the live demonstrations on the Interforst stand, the Unimog U 530 will show its outstanding capabilities in tough forestry operations with the chippers.
During chipper operations in the forest and on the road, the Unimog U 530 benefits from its high road speed of up to 80 km/h when making transfer journeys from A to B. In the driver's cab, large window areas at the front and sides provide outstanding visibility, while sound encapsulation ensures a low noise level. Quick couplings at the vehicle's rear allow a rapid exchange of implements when required, for example when replacing the chipper with another implement.