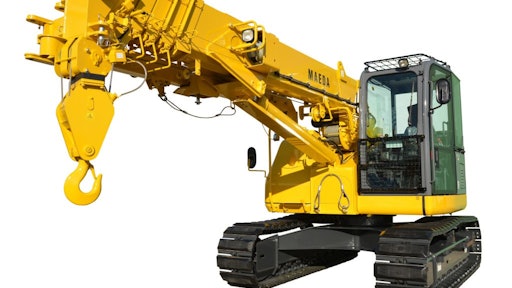 Maeda USA and Maeda is preparing to make a big splash at CONEXPO 2017, March 7- 11 in Las Vegas, with the introduction of its newest Mini-Crawler Crane.
At its exhibit in Gold Lot # G-4017, Maeda will introduce the new CC1485-1, the only small Telescopic Boom Crawler Crane marketed in North America. The CC1485-1 will replace the LC785 and will be available in North America in 2017. CC1485-1 features include:
6.6 T capacity telescopic boom crawler on a heavy-duty steel undercarriage
No-outrigger design offers a 72.2 ft. maximum hook height and near-zero tail swing
CC model is similar in size and design to the popular mini-excavators, except equipped with a telescopic boom and hook
Maeda will also exhibit three current MC Series models with various attachments. All models are outrigger based, small and narrow Mini-Crane design for access to tight work spaces and limited access job sites.
The 3.1 T MC285-2 has a 31.5 ft. maximum tip height and a 30 in. machine width for access through any doorway. It is the most useful for the tightest spots. Versions of the MC285-2 being exhibited will include the Dual Powered Diesel & Electric model, as well as the Dual Powered Gasoline & LPG model. Attachments for the MC285-2 being exhibited include Searcher Hook boom tip extensions, and long reach Auxiliary Winch assembly with 340 ft. of wire rope capacity for work well below the machine.
The MC305-2 has a 3.3 T capacity with a 47 ft. maximum tip height, with capacity throughout the lift chart double the MC285-2. The Dual Powered Diesel & Electric model will be exhibited with the optional Maeda Single Person Man Basket for lifting of personnel.
The 4.2 T rated MC405 offers a maximum tip height of 67 ft. off the optional Fly Jib attachment which will be exhibited. The dual powered Diesel & Electric model will be on display, with the single line Overhaul Ball.
All Maeda MC models offer Wireless Radio Remote Control, Moment Limiter Safety Systems with Load Indicator, Outrigger Interlock, Heavy Duty Black or Non-Marking White rubber tracks, 3 Sheave Hook Blocks and various other features.
All Maeda MC and CC crane models offer exceptional safety features including state of the art Programmable Moment Limiter Safety Systems, Anti-Two Block, and multiple warning and shutdown safety systems. Maeda cranes comply with all OSHA and ASME B30.5 standards for mobile cranes, and all engines conform to current EPA and CARC emissions standards.