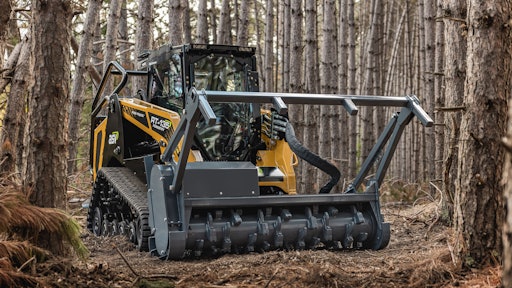 ASV LLC
ASV Holdings Inc., a Yanmar Compact Equipment Company, has announced several new product offerings, including a refresh of its RT-40 compact track loader, a new line of branded attachments and the addition of its largest, most powerful model yet, the RT-135 and RT-135 Forestry.
ASV was acquired by Yanmar in September 2019, and the repowered RT-40 Posi-Track compact track loader marks the first model to incorporate a Yanmar powerplant. The small-frame loader now uses a 38.2-hp Yanmar three-cylinder, Tier 4 diesel engine that delivers more power plus improves serviceability by allowing the engine to be serviced at ASV dealers. Other revisions include added comfort features, enhanced visibility and added performance features over its predecessor.
"With the Yanmar-powered RT-40, we are doubling down on the machine's performance, reliability and comfort, as well as making it easier for our customers to service the engine at ASV dealers," said Buck Storlie, ASV Holdings Inc. product manager. "The RT-40 is already a staple due to its ability to bring more power and productivity to limited-space work that may otherwise have required a fence removal or needed to be done by hand."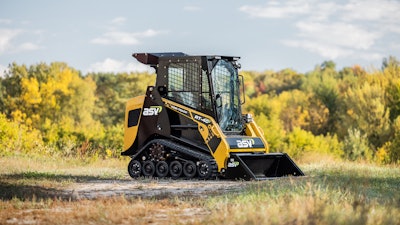 Big Unveil with Big CTL
The biggest unveil proved to be the announcement of the MAX-Series RT-135 and RT-135 Forestry, ASV's largest compact track loader model.
"This is a machine that's kept me up at night waiting for the opportunity to talk to customers about it," Storlie commented. "We see it as the biggest news in compact track loaders.
"Operators have been clamoring for a MAX-Series version of the RT-120, but we're giving them something even better," he continued. "The MAX-Series RT-135F is a premium machine right out of the gate. We took all the comforts of the MAX-Series and combined them with a machine that's ready to go to battle. It's faster, stronger, more productive, and is capable of keeping up with the ever-growing list of high-flow attachments used on today's toughest jobs."
The RT-135 and RT-135 Forestry builds on the powerful foundation of the RT-120, delivering 10% more horsepower and the highest hydraulic flow of any compact track loader, according to Storlie. The unit is powered by the same 132-gross-hp Cummins diesel engine as the RT-120, yet delivers a significant power boost in combination with a 50-gpm maximum auxiliary flow – which Storlie says is the highest in the industry for a compact track loader – and an oversized auxiliary pump capable of 66 gpm.
The extra 16 gpm within the pump means operators can run high-flow attachments such as mulchers at full speed while moving the loader without slowing down the tool. That directly translates to more productivity from the 50-gpm mulching head that is sold with the RT-135F.
With a 4,150-lb. rated operating capacity, an 11% increase from the RT-120, the RT-135 is "right up there with the leading industry models," Storlie stated.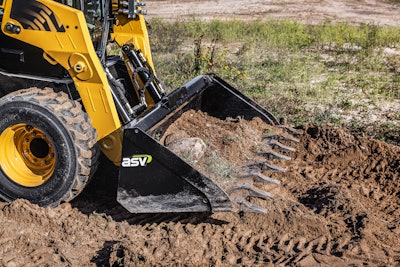 New Attachment Lineup
To support is compact track loader and skid steer product lineup, ASV also introduced a line of branded attachments matched and tested for use on its machines. The line will include a full range of buckets, pallet forks, grapples and brush mowers, with each type available for every model of ASV products.
The branded attachment line will include a full range of buckets, pallet forks, grapples and brush mowers.
"It's our goal to enhance convenience for our customers in everything from the purchase process to the operation of our equipment," said Jeff Pate, director of sales for the ASV brand. "Our new attachment line streamlines the purchasing process by allowing ASV dealers to be a one-stop-shop and ensures our customers get the best performance and reliability with an ASV attachment."
ASV will continue to expand the attachment line to add to the growing capabilities of ASV machines and fill the increasing demands and variety of job-specific applications.
Companies in this article