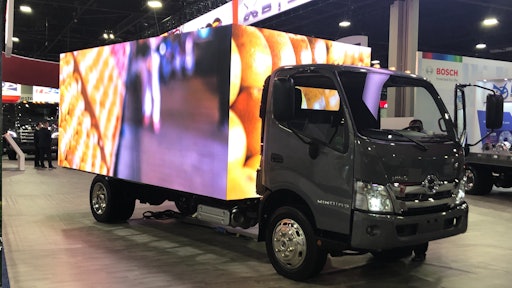 S. Jensen
Hino Trucks introduced a new series of trucks for 2021 at the North American Commercial Vehicle Show (NACV Show) in Atlanta. The new offerings feature updated designs, added connectivity and more safety features.
The new trucks include the M Series Class 4 and Class 5 trucks, as well as the new L Series Class 6 and 7 conventional trucks. The new offerings will replace Hino's current Class 4-7 models. These new vehicles follow Hino's 2018 launch of its XL Series of Class 7 and 8 trucks.
Dominik Beckman Director – Marketing & Dealer Operations, Hino Motors Sales, U.S.A., Inc., said the changes create a more compatible line of commercial trucks.
New design features
Buckman said the new vehicles will have larger cab configurations, designed for flexibility and greater durability, as well as important technology upgrades that bolster safety and driver experience.
The M Series of trucks for 2021 are upgraded with a new grille design and optional LED headlights as well as HD 6-speed Aisin automatic transmission with gear hold feature. They also come with what Hino billed as the "industry's first" OE fully integrated lane departure warning system.
Interior upgrades for the M Series vehicles include steering wheel controls, a new gauge cluster with a 4.2-in. (10.7 cm) LCD multi-information display, and a driver's seatbelt sensor.
The new Conventional line – the L Series Class 6 and 7 – come with what Beckman described as bolder front fascia and include the optional LED headlights. The cab interior has been re-engineered with an automotive grade finish designed for commercial use and improved functionality, steering wheel controls and a 7-in. (17.8 cm) LCD multi-information display. The cabs also offer more storage and leg room.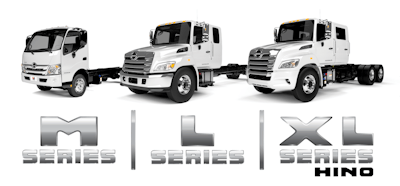 Safety features and cab options
There is now an array of new safety systems available on the Hino L Series, including electronic stability control, collision mitigation system, lane departure warning, active cruise control and driver's seatbelt sensor.
"The series really benefits greatly" in terms of safety, Buckman said.
Additionally, Beckman said the Hino XL Series 2021 models get important upgrades, too, including extended cab and crew cab configurations and a snow plow package with an 18,000-lb. (8,164.7 kg) GVW front axle and front frame extensions. These models also will come standard with a driver's seatbelt sensor and available ACC building on the trucks' ESC, CMS and LDW active safety solutions.
Extended and crew cab variants will be added in the spring and the XL snow plow package in the summer.
Hino says offering extended and crew cab options will enable it to better serve customers' operational needs, as well as open new markets for its trucks. The 30 in. (76.2 cm) extended cab will have seating for five and the 44 in. (111.8 cm) crew cab will have full-size doors and seat six passengers; it will also provide the comfort of rear zone A/C and heat.
In August, Hino announced the opening of a nearly 1 million-sq.-ft. truck manufacturing plant in Mineral Springs, WV, to bolster its production capabilities and drive growth.
The plant can produce 15,000 trucks annually per shift, providing Hino substantial capacity to meet expected demand for its newer offerings, the company said.