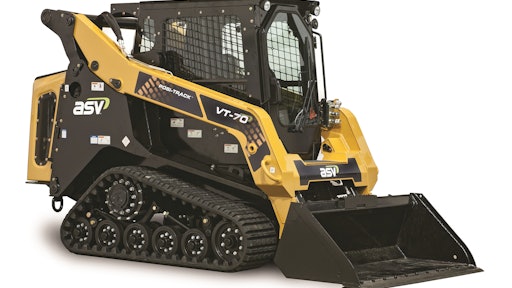 ASV LLC, an industry-leading manufacturer of all-purpose and all-season compact track loaders and skidsteers, introduces the company's first mid-frame, vertical lift compact track loader, the Posi-Track VT-70. The machine features a vertical lift loader linkage for applications requiring extended reach and level loads, such as loading pallets and handling hay bales. The VT-70 features best-in-class rated operating capacity, cooling systems and hydraulic efficiency. The compact track loader excels at lift, carry and load tasks as well as heavy digging in industries such as agriculture, construction and excavation.
ASV will feature the VT-70 March 7–11, in the Manitex International booth G4464, during CONEXPO-CON/AGG 2017 in Las Vegas.
"Our mission is to offer our customers the best, highest-performing machines for all of their jobs," says Jim DiBiagio, ASV General Manager. "That's why we're offering the vertical-lift VT-70 in addition to our existing, full range of radial lift machines. The new compact track loader delivers all of the productivity, efficiency and power our customers have come to expect from ASV. It's how we continue to reach our goal of maximum performance with no compromises."
ASV builds the VT-70 from the ground up. The innovative undercarriage features ASV's patented Posi-Track rubber track suspension. The single-level suspension is made up of two independent torsion axles per undercarriage, allowing for a smooth ride over every type of terrain and speeds as fast as 11 mph. The VT-70 also includes ride control that dampens the load in the bucket to limit material loss and improve operator comfort. In addition, the multiple wheel contact points, central drive lug and outside guide lug virtually eliminate track derailment and facilitate maximum performance on steep slopes. The VT-70 comes standard with 15 in. wide tracks, resulting in a ground pressure of only 4.6 psi. Those features, combined with the VT-70's 13 in. of ground clearance, allow the unit to work in more places, in a wider range of conditions and more comfortably than competitive machines.
ASV transformed its undercarriage from its previous closed design — similar to what is used on competitive steel-embedded undercarriages — to an open-rail and drive-sprocket design. The result is longer sprocket and bogie life along with easier and faster undercarriage cleaning. ASV manufactures all rollers with mechanical face seals that don't require maintenance for the life of the machine. Embedded co-polymer cords give the tracks extra strength. The tracks are produced using a single-cure process, eliminating cure-point weaknesses that can lead to premature breakage. The process allows for a 1,500- to 2,000-hour track life — 30% more than steel-embedded track units. ASV backs the track life with an industry-leading two-year, 1,500-hour track warranty.
The VT-70 features a Kubota 2.4-L turbocharged diesel engine. The 65 hp engine produces 146 ft.-lbs. of torque. Planetary drive motors transfer the torque to the patented internal-drive sprockets. Internal rollers prevent friction loss in the undercarriage, resulting in all power being transferred to the track regardless of drive speed. The VT-70 achieves Tier 4 Final compliance using a diesel oxidation catalyst that features less wiring and requires no regeneration, sensors, diesel exhaust fluid or additional maintenance.
A swing-out door and cooling system along with a three-panel hood arrangement allows total access to the engine, filters and other daily checkpoints.
The VT-70 boasts industry-leading serviceability, featuring a swing-out door and cooling system along with a three-panel hood arrangement that allows total access to the engine, filters and other daily checkpoints.
ASV built the VT-70's auxiliary hydraulic system to operate efficiently with an optional 28.4 gpm high flow and 3,300 psi. The machine includes large line sizes, hydraulic coolers and direct-drive pumps — rather than belt-driven pumps — transferring more flow and pressure directly to the attachment and preventing power loss. This design optimizes performance so operators can run attachments more efficiently than higher-horsepower competitive units. As a result of belt-driven pumps and restrictions in their hydraulic systems, many competitive machines lose as much as 30% of their horsepower.
The VT-70 features a rated operating capacity of 2,328 lbs. and a tipping load of 6,650 lbs. It is 66 in. wide and has a 10.5-ft. lift height. Standard joystick controls make operation easy and intuitive, while a self-leveling system allows attachments to stay at a set position while lifting. Operators can use the unit with all standard attachments, such as pallet forks, buckets, snow blades and brush cutters. An optional turf track allows for operation on highly manicured surfaces, such as golf course greens, with minimal risk of damage. A 16.5-in. aggressive track is also available for a lower ground pressure of 4.2 psi along with increased traction and flotation.