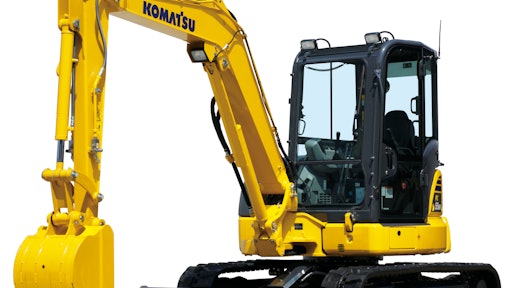 Komatsu Europe International announces a new range of MR-5 mini excavators, coming in February to the European market. The new PC30MR-5, PC35MR-5, PC45MR-5 and PC55MR-5 hydraulic excavators are four machines with tight tail swing radius and swing booms that hug the machine to help with work in tight spaces.
This new generation harnesses Komatsu's unrivalled technological knowhow and worldwide resources to bring industry-leading customer values to the mini excavator sector. The MR-5 range boasts many industry firsts and is packed full of outstanding new and improved features. Operator comfort, safety initiatives, ergonomic design, low fuel consumption, advances in controllability, KOMTRAX step 5 and the highest levels of standard specifications ever seen in the industry all raise the bar in terms of what customers can expect from a mini excavator.
"The new machines are designed for improved versatility, safety, comfort - and for low operating costs," says Emanuele Viel, KEISA Group Manager Utility. "They are perfect tools for most confined jobsites and construction, utility, landscaping or similar applications."
All four new machines feature an electronically controlled engine with either 1.64 L and 18.2 kW (24.4 hp) for the smaller PC30MR-5 and PC35MR-5, or 2.19 L and 29.6 kW (39.7 hp) for both the PC45MR-5 and the PC55MR-5. The new minis use up to 5% less fuel than their MR-3 predecessors, with no loss of performance or productivity.
Optimal performance
Komatsu's reliable and tough design solutions have further reduced machine down time. The auto decelerator and idle shut down now both come as standard, for reduced fuel consumption, increased residual value and reduced service costs. The first proportional line, also standard, increases productivity and the machine's versatility when working with attachments.
Newly developed hydraulic electronic controls, seen on mini excavators for the first time, optimize machine performance and lower fuel consumption, whatever the job.
The selectable working modes, a concept usually reserved for higher end hydraulic excavators, promote relaxed operations and increased profits.
First Class operator comfort
The cab of the new MR-5 range was redesigned, inside and out, for more functionality and a new more modern look and feel. Accessibility was improved thanks to the new hinged door design, and a high-resolution multifunctional 3.5 in. LCD color monitor panel, with maintenance info displayed, improves ease of use and technological appeal. A dial type fuel control increases operator comfort and convenience
Safety and Peace of mind
A control lever Neutral Detection System is an industry-leading safety feature, along with an engine shut down secondary switch and a seat belt caution indicator. An easy-to-use tie down bracket provides fast and easy transportability.
The latest KOMTRAX telematics, offer top fleet management and support, protect the machine against misuse and guarantee maximum efficiency and uptime.
The new MR-5 excavators are manufactured by Komatsu Italia Manufacturing, in Este, Italy.