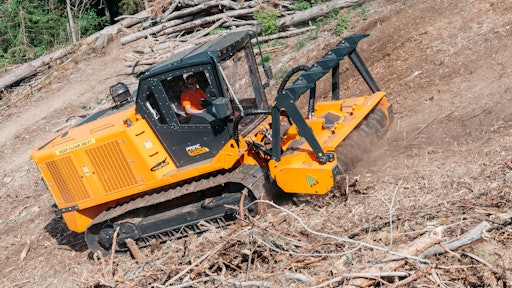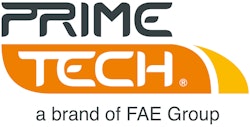 PrimeTech's PT-300 is a mid-size tracked carrier, now available with a Tier 4 engine. Along with installing a new engine some important modifications and improvements were made to this unit, however the main features the PT-300 is known for, remain the same: productivity, maneuverability, reliability, low ground pressure and comfort.
ENGINE
The engine is a robust and fuel efficient CAT C7 Acert 7l (428 in.3) turbocharged and aftercooled engine, with 6 in-line cylinders, producing 302 hp (225 kw);
The engine complies with the Tier 4 Final emissions  regulations and is equipped with Diesel Particulate Filter Technology (DPF), Diesel Oxidation Catalyst (DOC) and Selective Catalytic Reduction (SCR);
The PT-300 has a separate AdBlue (DEF) tank. The Diesel Exhaust Fluid (DEF) is used by the Selective Catalytic Reduction (SCR) to reduce nitrogen oxide (NOx) emissions in the exhaust;
The higher power output of 302 hp (225 kw) is achieved at a lower rpm (2,200), meaning better performance at lower fuel consumption;
A bigger fuel tank was installed (390 L) to ensure no filling up is needed even when working longer shifts;
-24V batteries are installed with a better cold start ability.
ENGINE COMPARTMENT
The bigger engine compartment with two large side doors on each side allows easy and quick access to any component;
Better layout of the components in the engine compartment and cleaner routing of hoses and wiring harnesses;
Easy cleaning and daily maintenance through perfect accessibility to all service points and both engine and hydraulic filters;
A tool box in the engine compartment for storage of tools and teeth. For the convenience of the operator the tool box can be easily removed.
CABIN
Second-to-none operator comfort: spacious, low-noise and low-vibration cabin, with excellent visibility and more headroom;
Overall height of the cabin has been reduced so that the total height of the unit is now only 2,785 mm (important in case of trucking in areas with height restrictions);
Even better and more ergonomic layout of controls;
New digital 7 in. color display to check and keep main parameters under control, as well as to customize functions and settings; - Troubleshooting and diagnosing via display including data storage on a USB stick;
Cabin is 30% more tiltable, allowing better access to the components located under the cabin.
RADIATOR
One oversized radiator with enough cooling capacity for hydraulic oil, air and water, even when worked in extremely hot climates;
The radiator comes with coarse fins, preventing them from get-ting plugged by dust and dirt and making cleaning much easier;
The radiator can be equipped with a proportional and reversible fan (option) thus, based on radiator temperatures, the blades will automatically adjust the pitch in the most efficient and effective way. This results in less power absorbed by the fan and eventually in lower fuel consumption;
The sucker fan helps to keep dust out of the engine compartment and thus keep it clean;
The fan is hydraulic driven and the pitch of the blades get adjusted hydraulically, being a more reliable solution to belt driven fans with blades being adjusted by a separate air compressor.
FRONT ATTACHMENTS
A range of front attachments are available for the PT-300, making it a very versatile tracked carrier. Following attachments are available: forestry mulcher, subsoiler, stump cutter, rock crusher and asphalt grinder. The forestry mulcher underwent some major redesign and offers some very interesting new features:
New push-frame design to reach the ground for dragging and raking;
Bolt-on counter blades for quicker change and reduced maintenance cost;
Adjustable skids to set required working depth;
Reinforced frame and hood.