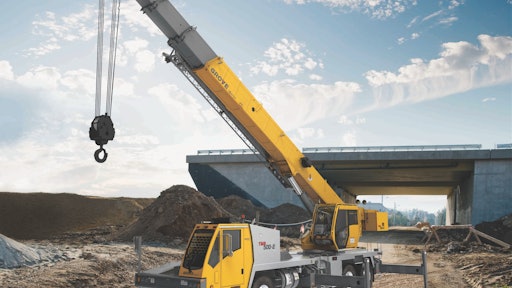 Manitowoc has just unveiled the Grove TMS500-2 truck crane at its Crane Days 2018 event. Visitors to Manitowoc's facility in Shady Grove, PA, are the first in the world to see the crane. 
The new 36 t (40 USt) capacity TMS500-2 features the quick set up and versatile taxi capabilities expected from a truck crane in this class. Manitowoc's Voice of Customer (VOC) research showed strong demand for such a model. The TMS500-2 gives these customers a lightweight truck crane that can quickly travel among job sites without additional loads, making it perfect for housing jobs, steel erection and HVAC work, for example.
"We saw a strong demand from our dealers (and the market in general) for a lightweight, versatile truck crane with excellent taxi capabilities," says J.J. Grace, Product Manager for Truck-Mounted Cranes at Manitowoc. "We took that sentiment into account, and the TMS500-2 is the result."
The TMS500-2 will have two boom options. The first ranges from 8.8-29.0 m (29-95 ft.), with three quick-reeve Nylatron sheaves in its main boom nose. The second option ranges from 9.8-31.0 m (32-102 ft.) and has four quick-reeve Nylatron sheaves. Both four-section booms are synchronized and full-power, making this crane easy to set up and quick on the job. The crane can also be equipped with an optional 7.9-13.7 m (26-45 ft.) telescoping swingaway jib for additional reach.
The TMS500-2 shares a common carrier cab with the higher-capacity TMS9000-2, which debuted at CONEXPO in 2017. This modern, single-person cab comes with an upgraded console with an automotive-style gauge display and multi-function steering, which grants fingertip access to cruise control and driving lights. The superstructure cab features full-vision design for maximum visibility, an improved climate control system and Manitowoc's Crane Control System (CCS), which includes a working range limiter, operator-programmable function speeds and a selectable ECO mode that reduces fuel consumption.
The crane also features a high-performance 350 hp Cummins ISL engine with an Ultrashift transmission that provides highway travel speeds of up to 113 kph (70 mph). The TMS500-2 can be configured with either a heavy or lightweight counterweight package for added versatility when meeting local roading requirements. Whichever package customers choose, the TMS500-2's load charts provide best-in-class performance.
"The Grove TMS500-2 represents a significant addition to our line of next-generation truck cranes. Our customers asked for a smaller truck crane to maximize maneuverability and efficiency, and we delivered," Grace says. "Putting our customers at the center of our business is The Manitowoc Way in action. They have helped design a crane that will have a real impact on their profitability."
Along with the TMS500-2, Grove is also featuring the TMS9000-2 at Crane Days, the first of Grove's next-generation truck cranes. That model quickly became a hit when it was unveiled at CONEXPO, creating demand for similar models in different capacity classes.