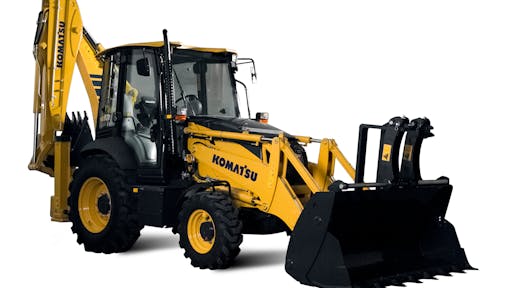 Komatsu Europe announces the WB93R‐8 backhoe loader, the first model of a new range in line with EU Stage IV emission regulations. Packed with customer‐focused features, the WB93R‐8 offers a high level of standard specifications and industry‐leading operator visibility with Komatsu's unique combination of a lateral exhaust pipe and compact bonnet.
"This new series is a perfect match between performance and efficiency," says Alex Visentin, Product Manager at Komatsu Europe. "Along with exceptional visibility and the exclusive design of the work equipment, our new backhoe loaders offer increased productivity with a clear focus on the operator's needs."
Performance & Efficiency
Built around the successful features of previous Komatsu backhoe loaders, the new WB93R‐8 has an operating weight of 8,130 kg, and an improved EU Stage IV Komatsu SAA4D99E‐1 engine with more power (75 kW /102 hp gross) and a lower fuel consumption, with no loss of performance or productivity. A viscous fan clutch helps to achieve fuel savings, and it reduces engine load when maximum cooling is not required.
With a Selective Catalytic Reduction (SCR) system using AdBlue, the new aftertreatment system greatly reduces NOx emissions, to offer a better protection to both the operator and bystanders.
Versatility is a must for any backhoe loader: for fast and smooth operations in any application, Komatsu's well-proven Closed Load Sensing System is at the core of the new WB93R‐8's hydraulics. It is supplemented by power/economy working modes and Komatsu's exclusive parallel loader linkage, ideal for working with forks. The standard "Return to Dig" function, a differential lock and a selectable floating function for the loader confirm this new backhoe loader as a premium package for any customer.
Safety, Comfort and Easy Maintenance
Safety is a top priority for Komatsu.
Anti‐burst valves are now included for backhoe operations and on stabilizers. A new "Engine Shutdown" secondary switch, reachable from ground level, and a new optical seat belt alarm complete Komatsu's traditionally safe operator environment.
The switch console was redesigned, and a new accelerator pedal, fuel dial and standard air seat further promote comfortable and productive cab surroundings.
The latest KOMTRAX technology and a new 7 in. multi‐function color monitor, with fuel consumption indications and maintenance info displayed in one of 15 built‐in languages, improve communications between the machine and the operator and contribute to the optimization of the machine owner's total costs.
The battery, main switch and relays are conveniently located, with a better maintenance access to the electrical system. The AdBlue tank is accessible from ground level for a quick, easy and safe refill.
With its refined and contemporary styling, the new WB93R‐8 is sure to stand out on any jobsite.