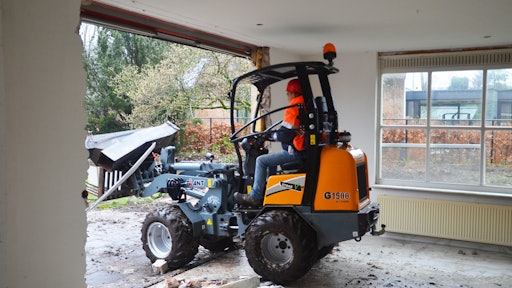 TOBROCO-GIANT
The new compact loader from TOBROCO-GIANT offers performance, outstanding versatility and reduced running costs and fuel consumption. With the G1500 X-TRA, TOBROCO-GIANT will introduce GIANT's first electronically-controlled drivetrain (GECD) which ensures maximum grip, a lot of pulling force and smooth movement in every situation. 
New drivetrain
The new G1500 is driven by a powerful 19 kW/26 hp diesel engine that meets the latest, EU Stage V, clean engine standards. In order to guarantee performance and comfort TOBROCO-GIANT developed GIANT's electronically-controlled drivetrain (GECD) with four heavy wheel engines. This powertrain ensures maximum grip, a lot of pulling force and smooth movement in every situation against reduced running costs and less fuel consumption.
Despite its compact design and limited weight, the G1500 X-TRA has a tipping load of 1,663 kg. While working with heavy loads the machine has still an extraordinary stability against overturning. This is due to the four-wheel engines, which take the balance point of the machine to a very low level. For extra productivity it is possible to equip the machines with the patented Stabilo System or boom suspension. Both options provide extra safety and comfort because unevenness's are absorbed without any compromise to the performance.
Safety and comfort
The machines are standard equipped with a safety roof and this can optionally be changed to a foldable safety roof or to a full-option cabin. All roofs and cabins have been extensively tested on safety by an independent authority and are internationally ROPS/FOPS certified. All-round visibility gives the operator an excellent view on his work and allows safe and precise operation.
With this machine the driver works from the most comfortable seat on the job site – featuring a spacious operator environment combined with the smooth predictable control instruments, the ergonomic, low-effort joystick and tilt and telescope steering column guarantee safe and efficient working conditions.