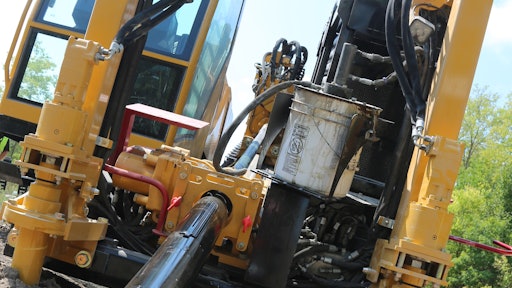 Vermeer
The new Vermeer D40x55DR S3 Navigator horizontal directional drill delivers excellent productivity in broad range ground conditions, from hard, medium and soft rock to loamy/dirt and clay. This new rock drill features Vermeer dual rod technology that uses an inner rod to provide torque to the drill bit, while the outer rod offers steering capability and rotation torque for reaming. The combination provides powerful downhole cutting action and the flexibility to select the appropriate tooling to best match the ground conditions.
"Dual rod drilling rigs are much easier to use than other rock drilling solutions and provide more versatility when a contractor is drilling soil conditions that vary significantly throughout the bore path," says Tod Michael, Product Manager of Trenchless Products at Vermeer. "With the D40x55DR S3 horizontal directional drill, we've incorporated the dependability and performance of our popular D40x55 S3 Navigator horizontal directional drill with the latest advancements in dual rod technology to create a familiar operator experience that will outperform many other rock drilling solutions."
Using a new dual drill rod design that simply and quickly makes up the inner and outer rod connections, the time and steps required to add or remove a rod on the D40x55DR S3 is cut by 30% compared to previous Vermeer models. A hollow inner rod design results in more air and drilling fluid flow to the drill head on pilot bores and the hole opener during pullback. The minimal restriction means contractors have more tooling options ranging from rotary, drag cutting and roller cone bits to an air hammer, as well as the ability to pull larger hole openers.
Powered by a 104.4 kW (140 hp) John Deere diesel engine, the Vermeer D40x55DR S3 serves up 177.9 kN (40,000 lbs.) of thrust/pullback and 7,457 Nm (5,500 ft.-lbs.) of rotational torque. It can carry 152.4 m (500 ft.) of drill rods onboard. Also, with a carriage speed of 35 mpm (115 fpm), low guaranteed sound power rating of 104 dBA and similar controls and components to other Vermeer horizontal directional drills, the D40x55DR S3 shares the qualities the Vermeer S3 drill lineup is known for.
"From developing the steerable air hammer technology to this latest addition to the Navigator HDD product line, Vermeer has been helping develop rock solutions for decades," adds Michael. "We offer a wide range of rock tooling solutions and have also formed partner alliances with several of the industry's leading rock tooling and support equipment manufacturers to give our customers the best options for their individual needs.
Vermeer RH15 Rock Drill Head
The newest tooling option for Vermeer dual rod directional drills is the RH15 rock drill head. Developed in conjunction with the D40x55DR S3, the RH15 drill head can handle 2,033.7 Nm (1,500 ft.-lbs.) of inner rod torque for pilot production. It is designed to give operators excellent steering control and sonde security using a proven roll pin lid. The RH15 rock drill head is affordably priced and can be rebuilt in the field, giving contractors an outstanding value for their investment.