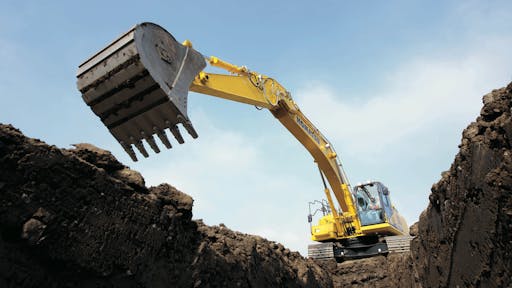 Since its introduction the success of the Komatsu excavator intelligent Machine Control system in delivering step changes in productivity, efficiency and cost saving for customers' businesses has led to it being recognized as the benchmark technology in the construction industry. With the introduction of the PC360LCi‐11, customers can now experience those benefits on large infrastructure and earthmoving projects.
"Since we introduced the PC210LCi‐11, customers have seen the opportunities of using of our intelligent Machine Control technology on jobs that require higher volume excavation, and many have been asking for a larger machine to deliver those benefits," says Rob Macintyre, Product Manager at Komatsu Europe. "In launching the new PC360LCi‐11 we are responding to that customer demand, and we see huge potential for it to realize major productivity, efficiency and cost saving gains in these types of applications."
Operating weights of the PC360LCi‐11 range from 35,600‐36,200 kg, depending on the configuration, and it has a maximum recommended bucket capacity of 2.66 m3. The fuel efficient, EU Stage IV Komatsu SAA6D114E‐6 engine puts out a net 192 kW/257 hp at 1,950 rpm.
The latest KOMTRAX telematics, and the Komatsu Care maintenance program for customers, offer top fleet management and support, protect the machine against misuse and guarantee maximum efficiency and uptime.
Innovative: Automatic Real Time Digging Control
With Komatsu's unique intelligent Machine Control, the bucket is automatically limited from digging beyond the target surface. The control function maintains grade automatically, with real‐time bucket edge positioning in relation to the machine and the job surface. Status is instantly displayed on the full color, multi‐function 12.1 in. control box monitor, eliminating the wait time associated with conventional sensors.
Integrated: Standard Factory‐ Installed Integrated Machine Control System
Fully factory‐installed, Komatsu's integrated intelligent Machine Control system includes stroke sensing hydraulic cylinders for the boom, arm and bucket, developed over two machine generations by Komatsu for precise real time bucket edge positioning. The IMU (Inertial Measuring Unit) provides machine orientation and determines machine angle from gyro and accelerometer data. High performance antennae send satellite signals to a GNSS receiver that processes them and provides real time position of the machine.
Intelligent: Enhancements for Optimized Performance
The Komatsu PC360LCi‐11 intelligent Machine Control excavator lets the operator focus on moving material efficiently without worrying about digging too deep. The touch screen control box monitor, makes grading easy and accurate, providing the operator with real time information on bucket edge position in relation to design surface, "as‐built" status, and customizable spilt screen views in profile, plan or 3D format.
By setting 3D design data on the control box monitor, the use of traditional guidance methods such as stakes and grade rails can be reduced or eliminated, as can surveying and final inspection. Safety is greatly improved, with less people needed on the job site and near the machine.
Intelligent ON/OFF switches for the semi‐automatic function, and raise/lower of the design offset, are fully integrated in the joysticks. This further increases efficiency and safety for the operator.
Benefits
The unique benefits of the new Komatsu PC360LCi‐11 combine the high productivity of a bulk earthmoving excavator with the renowned accuracy of Komatsu intelligent Machine Control. This is achieved by powerful hydraulics and breakout forces when excavating, fast cycle times when truck loading, and by completing grading automatically in just one pass. Fewer machine cycles are required and operator performance is improved, with vastly reduced risk of re‐work, lower fuel costs and increased machine utilization.
Information in this news release is current on the date of the announcement and is subject to change without notice.