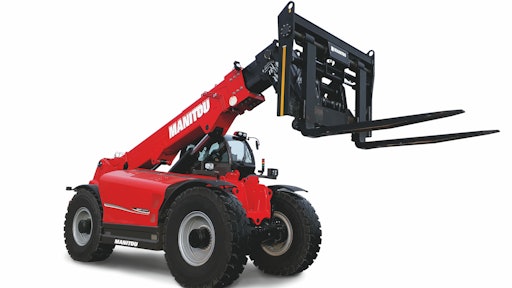 Manitou's new MHT 12330 heavy-capacity telehandler is a powerhouse with an impressive 73,000-lb. fork capacity and 80,000-lb. lift hook capacity. This heavy-hitter is built for handling hefty loads with precision in the most demanding conditions.
"The MHT 12330 continues Manitou's tradition over the last 30 years of offering new and improved telescopic handlers," says Steve Kiskunas, Product Manager for Telescopic Handlers, Manitou Group. "This model answers a specific customer need for a high capacity telescopic handler that can move industrial equipment in areas where a crane cannot be used."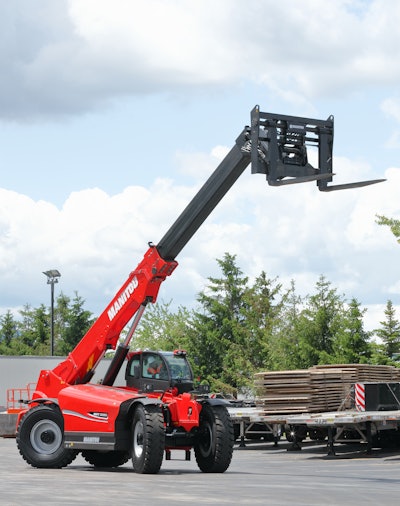 The Manitou MHT 12330 not only has the strength to power through the toughest jobs; it is also extremely precise and easy to maneuver. The unit is powered by a 245 hp Stage 5/Tier IV Final Deutz engine and features a maximum lift height of 39 ft. 1 in. and maximum reach of 21 ft. 8 in. It has a three-speed hydrostatic transmission with full wheel four-wheel drive, and the operator can choose all wheel, crab or front wheel steering depending on the job.
Top applications for the Manitou MHT 12330 include infrastructure projects, mining, bridge construction, steel mills, oil refineries, quarries, power distribution and heavy hauling. This machine is a truly versatile multi-tool carrier that is compatible with a wide range of attachments, including those from smaller telehandler models, such as tire handlers, cylinder handlers and work platforms. In addition, fork attachments can range in length from six to 12 feet, allowing this machine to handle two containers together if needed. Manitou's exclusive E-RECO system also eliminates operator guesswork and can automatically detect when an attachment is correctly mounted and assign the appropriate load chart.
The deluxe, ergonomic driver's cab on the MHT 12330 features panoramic views and intuitive controls. With Manitou's exclusive JSM (Joystick, Switch and Move) control, operators use a single joystick for all boom and hydraulic functions as well as directional drive. For added safety and efficiency, a four-camera video system is mounted to the sides, front and rear of the machine, and operators can set restrictive zones for the boom height, outreach and hydraulic speed.
The Manitou MHT 12330 comes standard as a Connected Machine with a telematics system to simplify machine management. Manitou's Connected Machines provide fleet owners and end users with instant remote access to recent activity, locations, error codes, CAN data and service alerts through data management software tools.