The new Manitou MTA 12055 Series III telehandler ranks as the heaviest capacity construction telehandler in the product line. This new machine has a maximum lift capacity of 12,000 lbs., lift height of 55 ft. 5 in. and can take 5,500 lbs. to full extension.
"We had many customers looking for a Manitou telehandler that could handle construction materials that are larger than usual," says Steve Kiskunas, Product Manager of Telescopic Handlers, Manitou Group. "The Manitou MTA 12055 has a high capacity and lift height, combined with great forward reach, which makes it perfect for infrastructure, bridge and power generation projects, to name a few."
The Manitou MTA 12055 telehandler can easily navigate the most demanding jobsites. It has an impressive turning radius of 12 ft. 2 in., so it can be used in the same tight jobsites as some of the smaller models, but it has the extra capacity for those heavier objects. In addition, an exclusive single joystick control lets operators control boom extension and retraction, attachment tilt, auxiliary hydraulics and travel direction all on the same joystick.
Challenging soil conditions and uneven terrain are no match for the Manitou MTA 12055 which is equipped with a 120-hp Cummins engine and four-speed powershift transmission, pushing travel speeds up to 22.8 mph. The Manitou MTA 12055 is designed with a side mounted engine and high boom mount. This design gives operators excellent visibility over the top of the engine and easy access to maintenance components. Additional features include a maximum forward reach of 40 ft. 9 in. and standard four-wheel drive, frame leveling, auxiliary hydraulics and self-leveling forks.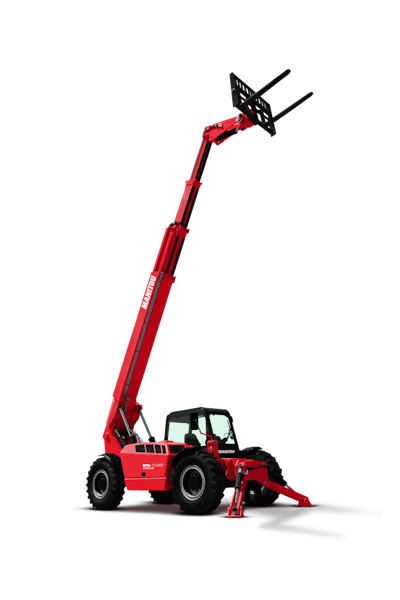 Optional features for the Manitou MTA 12055 include cab enclosure with heat or air conditioning, an LED light kit, and reverse camera and radar. Manitou also designed a Personnel Work Platform System (PWP) that temporarily disconnects the transmission, engages the rear axle stabilizer, reduces frame leveling and applies the parking brake when using a platform attachment. This exclusive option automatically places the machine in the correct mode for work platform use.
Manitou offers a full range of attachments for the MTA 12055. Fork carriages, both standard or rotating, with widths from 48 to 72 inches, can support many different applications. Truss booms, buckets and lift hooks are also available.
The Manitou MTA 12055 comes optional as a Connected Machine. Manitou's telematics system simplifies machine management by providing fleet owners and end users with instant remote access to recent activity, locations, operating codes and service alerts through data management software tools.