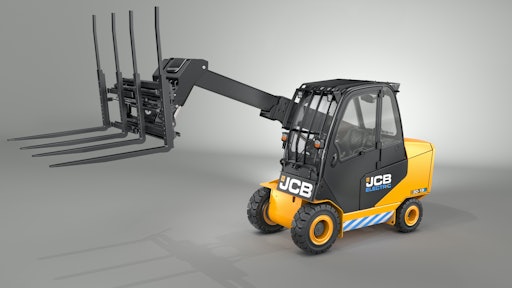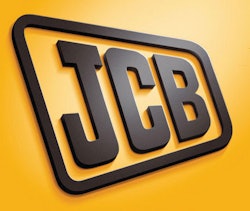 Two new electrically-powered JCB Teletruk telescopic forklifts were launched to the farming and horticultural sectors at Agritechnica.
They provide unique performance characteristics for handling work in and around vegetable and salad glasshouses, storage facilities and pack houses, and food distribution centers further along the supply chain.
The battery-powered JCB Teletruk 30-19E with 3 tonnes lift capacity and the JCB Teletruk 35-22E, which is capable of lifting 3.5 tonnes, are supremely quiet and produce no emissions in the working environment, which makes them ideally suited to handling operations inside buildings.
At the same time, the fully sealed, weatherproof body protects the machine's driveline and other key components from the elements when used outdoors to handle, shift and stack potato boxes and the like.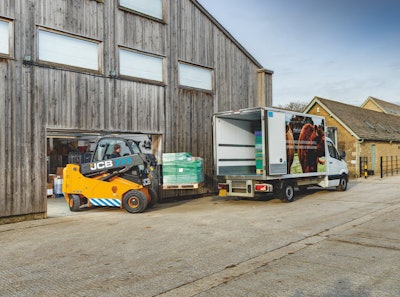 John Smith, JCB Agriculture Managing Director, says, "These new telescopic forklifts bring the proven advantages of the unique Teletruk to applications where zero emissions and near silent operation greatly improve working conditions for the operator and other personnel working in the same area, while also benefitting the wider environment.
"They are JCB's response to demands from the food industry for an electric-powered Teletruk that can operate both inside and outside buildings, which in an agricultural context will involve emptying bulk potato boxes on to grading and sorting lines, moving pallet-stacked sacks and trays from the ends of packing lines, unloading packaging and other supplies from delivery trucks, and loading produce on to dispatch vehicles." 
On both models, the powerful electric driveline enables the machine to climb a 21% gradient or ramp with ease, with the 80V lead acid battery providing a full eight-hour shift on a single charge.
The JCB LiveLink telematics system provides real-time energy consumption measurement and detailed analysis of machine utilization, and for round-the-clock operation, the electric Teletruk's battery can be exchanged in around two minutes using a single-point hoist or another lift truck. 
Unlike a conventional forklift with a mast that lifts only vertically, the JCB Teletruk features a side-mounted telescopic boom providing unique forward reach with meaningful capacity that enables items such as palletised goods, storage boxes and potato chitting crates to be placed or retrieved across the deck of a flat-bed farm trailer or road-going curtainsider.
Smith says, "This unique capability, together with the lift and forward reach characteristics and outstanding maneuverability of the Teletruk design, makes a real difference to productivity and the time and space required to load or unload vehicles or move items from one place to another."
At 2.0 m forward reach, the Teletruk 30-19E has 1900kg lift capacity while the heavier-lifting 35-22E manages 2,200 kg. Lift performance is also sufficient to place a laden pallet 3.0 m into a van, so extended wheelbase vehicles can be fully loaded through the rear doors.
Productivity also benefits from 1,575 mm of 'free lift' – enabling loads to be lifted and moved without exceeding the height of the machine – and from a combination of reach and maneuverability that means a Teletruk can place three Euro pallets into a van easily and safely within 2 minutes.
Being able to reach into vehicles eliminates any need for manual handling, resulting in far less risk of damage to materials or the vehicle or injury to personnel than when a conventional counter-balance forklift is used.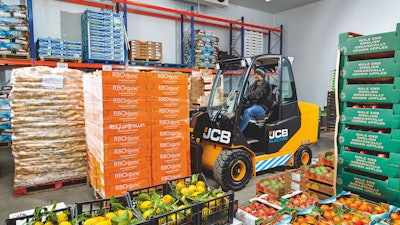 The operator's 360-degree view around the machine and to the attachment also contributes to the machine's safety credentials, which are underscored by JCB's patented Load Motion Control. This provides a three-stage 'traffic light' display alert when approaching full lift or reach capacity, and it will not allow boom movements that would go beyond the machine's stability limits.
These features also contribute to productivity by giving the operator confidence in using the machine within confined spaces – and there are few spaces more confined than a shipping container, which at 1.29 m wide and 2.20 m high, the new Teletruk forklifts can easily enter.
Despite these compact dimensions, the JCB Command Plus cab on the Teletruk 30-19E and 35-22E still provides a comfortable, clutter-free and productive operator environment. All hydraulic functions, as well as speed and forward/reverse selection, are controlled using a single joystick, and important performance information, such as battery life and ground speed, and Load Motion Control status, are displayed at easy-to-read eye level.
The new electric-drive Teletruk forklifts join three Agri models powered by combustion engines – the two-wheel drive TLT27 with 2.7 tonne lift to 4.0 m; the two- or four-wheel drive TLT30 with 3.0 tonne lift to 4.0 m and TLT35 with 3.5 tonne lift to 4.4 m.
Engine options amount to a 27.5 kW (37 hp) Perkins diesel or 32 kW (43 hp) Kubota LPG engine for the TLT27 and TLT30, and a 34 kW (46 hp) JCB Diesel by Kohler engine for the TLT35. All drive through a single-speed hydrostatic transmission.