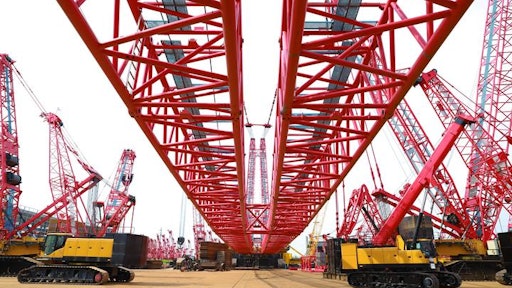 On May 21, SANY debuted its largest tonnage crawler crane, the SCC40000A, and celebrated its delivery in Huzhou factory, China. This gigantic beast features a 4,000 T capacity and can lift 2,000 T of freight to 100 m high. It features a maximum lifting moment of 90,000 t·m.
It covers an area of 3,000 m2 with 120 m long twin lattice booms rising up to the sky. Overall transport requires 150 trailers with 30 T loads each. After the last test of lifting at 120 m boom, it's off to Shandong Province in no time.
Crawler cranes larger than 2,000 tonnage play a key role in petrochemical, chemical, marine engineering, nuclear power, and wind power industries. Sany received the order for a 4,000 T crawler crane from a Shandong customer last August and delivered this giant as scheduled after half a year of calculation and verification.
The SCC40000A marks a breakthrough in R&D capabilities. The drive is significantly enhanced via innovative double crawler tracked wagon for super-lift counterweight coupled with powerful slewing drivetrain. Customized for a nuclear power plant project, the V-type twin lattice booms are designed to optimize lateral bearing stability while minimize impact from their self-weight within working radius. This product also boasts more than 20 patents for invention, with two internationally. 
Less than 10 units of crawler cranes with over 3,000 T loading capacity have been produced till now in China. And the capacity of 4,000 T is even fewer. The SCC40000A is definitely a milestone for heavy equipment manufacturing.