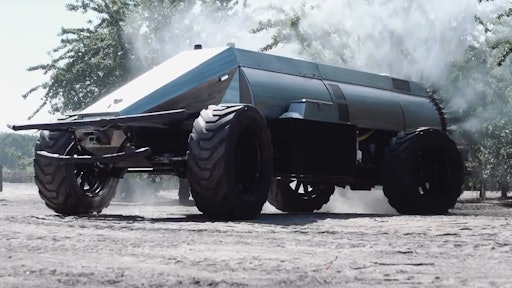 GUSS Automation LLC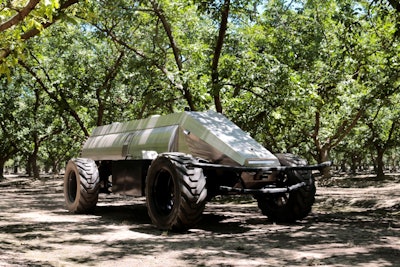 In 2014, Crinklaw Farm Services began work on what would eventually become GUSS—Global Unmanned Spray System. The GUSS autonomous orchard sprayer was developed in response to the company's own labor challenges and its need to increase efficiencies and lower costs for its producer customers.
The company began its commercial spraying business more than 30 years prior in 1982, producing the industry's first three and four-row vineyard sprayers, as well as mechanical vineyard pruners and the Tree-See orchard sprayer.
According to Gary Thompson, Marketing Director, GUSS Automation, LLC, the biggest challenge the company faced during the creation of GUSS was the weakened GPS signal when the vehicle was operating under the orchard tree canopies. Using advanced vehicle sensors and software enabled adequate supplementation of the GPS signal to allow the autonomous sprayer to safely and effectively operate throughout an orchard.
An object detection system, a touch sensitive bumper and a live-stream camera system being remotely monitored all ensure safe operation.
"After more than 3.5 years of development and testing, Crinklaw Farm Services began operating four GUSS sprayers commercially and officially launched the product at World Ag Expo 2018," says Thompson. "Now, Crinklaw Farm Services has seven GUSS autonomous sprayers which operate as part of its custom spray application service for mid- to large-scale tree farms."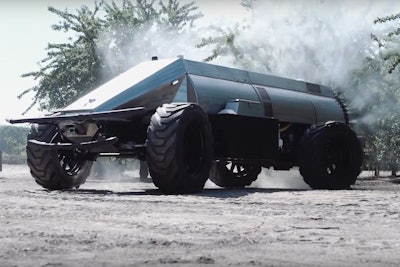 The sprayer's design, while futuristic, was intentional and purposeful for practical functionality. Stainless steel, for example, was used for the exterior because of the material's longevity against spray. The severely angled front-end was designed as such in order to ensure low hanging fruit and branches can easily slide up and over the machine, so as not to get damaged or dislodged.
"Typically, almond, pistachio and citrus orchards have row widths around 20-22 ft.," explains Thompson. GUSS needed to be able to operate within those width parameters and be low enough to fit under a typical orchard canopy. The four-wheel steering system awards the sprayer a tight 17-ft. turning circle to allow the vehicle to go directly from one row to the other without having to skip the nearest row and circle back, adding unnecessary operation time and fuel usage. An added benefit of the four-wheel drive is the vehicle's ability to better handle steep, wet and muddy terrain.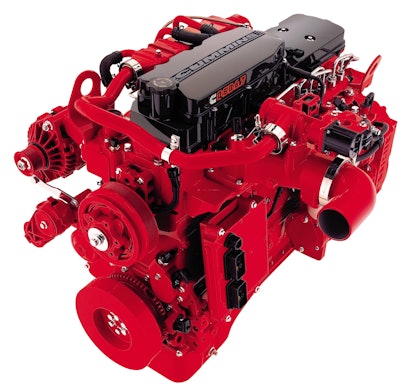 As with every heavy-duty vehicle industry, unplanned or prolonged downtime is a revenue killer. GUSS Automation invested in Cummins Inc.'s QSB6.7 173 hp engine as its power source with a widespread and reliable support network.
"GUSS's low profile, meant that engine space envelope was a key consideration and Cummins Direct Flow air filtration system has a 35% smaller installation profile than radial air filters, as well as improved filtration efficiency. The QSB6.7 combines cooled exhaust gas recirculation (EGR) with a Cummins High Pressure Common Rail (HPCR) fuel system and diesel particulate filter (DPF), facilitating clean and efficient combustion for high fuel efficiency – a key factor when operating a commercial spraying machine," says Ann Schmelzer, General Manager of Global Agriculture, Cummins.
"In addition, the QSB6.7 engine fully supports autonomous applications – it's electronic control system can communicate with an application's own control system using a J1939 datalink," Schmelzer says.
"Our orchard model is the first model that will go into production. This sprayer is designed to fit perfectly in over 2.5 million orchard acres in California alone. That said, we are continually studying the market to see if there are other sizes of the orchard model that make sense for us to produce," says Thompson.
"We definitely have our sights set on other applications. The biggest level of innovation for us was the autonomous technology and electronics, which we feel is adaptable to other orchard and vineyard vehicles, including tractors," he concludes.
The California-based business just completed construction of a new 20,000 sq. ft. manufacturing facility in Kingsburg and is currently taking pre-orders for GUSS sprayers. The first deliveries to customers will take place this summer. To learn more about GUSS sprayers, visit www.GUSSag.com
Companies in this article