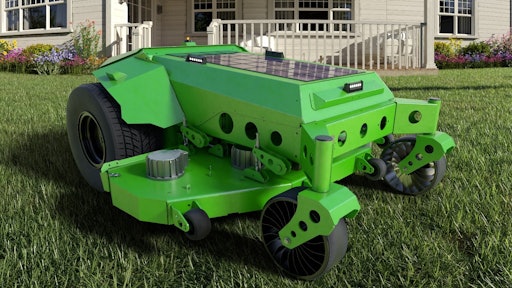 Mean Green Products, LLC (Mean Green Mowers™) is collaborating with The Kobi Company to develop a large area robotic mower. The machine is an autonomous commercial electric zero turn mower.
No operator is necessary as the mower is fully autonomous. This frees landscapers to work on other tasks at a jobsite.
Automation also provides a solution to the labor shortage being faced in the landscape industry; like many heavy equipment segments, it's becoming more difficult to find skilled labor. Having the autonomous machine allows landscape companies to remain productive even when it's difficult to find workers.
Productivity can even be increased. Mean Green says the robotic mower can replace a typical landscape crew of two workers; the crew can be reduced to one person while getting the same amount of work, or more, completed in a single day.
"We have designed our autonomous mowing module with mower speed, accuracy, and safety in mind. By using the latest in computer vision technology and artificial intelligence, we have been able to produce a system that can easily navigate any environment, even below trees and up close to buildings" says Kobi CEO Andrew Ewen. "After years of writing code and exhaustive testing, we now have a safe and affordable autonomous solution for commercial landscape operations."
Electrification of the mower reduces fuel and maintenance costs as there is no engine requiring fuel – the cost of which can fluctuate greatly – and there are fewer parts susceptible to wear. Labor costs are also lower since fewer workers are necessary. Total savings can be in the range of $20-30/hour.
The robotic mower will be unveiled at the Mean Green Mowers booth 11080 at the GIE+EXPO show in Louisville, KY. Attendees of the show can see the 74 in. EVO concept autonomous mower at the company's indoor booth. Demonstrations of the 48 in. NXR autonomous machine will be held at 10:00 a.m. and 2:00 p.m. October 17 and 18 at the Mean Green outdoor demo area #6014D.
Pending the new ANSI/OPEI 60335-2-107-2019 Robotics standards, exclusive testing of the autonomous mower will begin in the fall with selected customers, as well as certification. Testing will continue through 2020 with plans for production units by 2021.