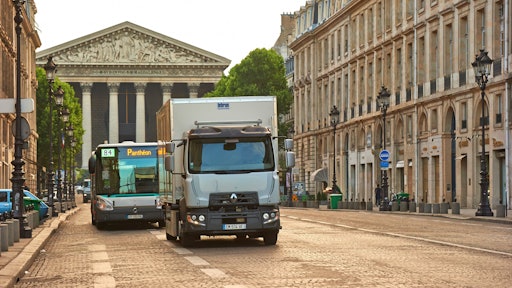 It has been recognized by climate scientists that the earth's atmosphere is growing warmer due to greenhouse gas (GHG) emissions. The COP 21 (Conference of Parties) in Paris brought together 196 delegations (195 States plus the European Union) to sign the first ever universal climate agreement. As of December 12, 186 countries had published action plans outlining the ways in which they plan to reduce GHG emissions. The overall goal is to keep the rise in temperature below 2 C, which has been determined by scientists to be a dangerous threshold to breach.
In November of 2015, the United Nations Framework Convention on Climate Change (UNFCCC)—the UN body that deals with climate change—evaluated the plans created by each country and determined that the collective efforts would still not be enough to meet the 2 C temperature threshold. The Paris agreement therefore asks all countries to review these contributions every five years from 2020; they will not be able to lower their targets and are encouraged to raise them.
So what does this mean for equipment manufacturers and system suppliers? According to Kim Heroy-Rogalski, Mobile Source Control Division, California Air Resources Board (CARB), medium- and heavy-duty trucks are the fastest growing transportation type and are thus receiving special attention for emissions reduction with Phase 2 regulations.
At COP 21, several companies showed their support for GHG reduction efforts and demonstrated the work they had already put forth to combat climate change in their own ways. CNH Industrial brands New Holland Agriculture, Iveco, Iveco Bus and Heuliez Bus each played their part to help raise awareness on climate change by demonstrating their various environmental initiatives and eco-friendly products.
New Holland Agriculture was a Gold Sponsor of the Sustainable Innovation Forum (SIF) for the fifth consecutive year. The forum is organized by Climate Action in partnership with the United Nations Environment Programme (UNEP). The brand showcased its T7 Blue Power tractor in front of the SIF venue and was represented by Lars Skjoldager Sørensen, Head of Harvesting Product Management at New Holland Agriculture, on a speaker's panel for a high-level dialogue session devoted to Sustainable Agriculture, Forestry and Water Use.
The discussion revolved around the most promising innovations in food production and land management that will enable society to support a global population of over 9 billion. Sørensen pointed out that "the path to a sustainable future for agriculture is also linked to alternative sources of energy and a transition to greater energy independence for farming businesses."
Also on the occasion of COP 21, CNH Industrial's commercial vehicles brand Iveco and bus brand Iveco Bus deployed 17 of its environmentally-friendly vehicles. The vehicles were equipped with advanced energy-efficient Euro VI engines for improved environmental protection and range from compressed natural gas (CNG) and liquefied natural gas (LNG) engines to diesel engines featuring Iveco's exclusive HI-SCR (selective catalytic reduction) aftertreatment system that eliminates the recirculation of exhaust gases. Fourteen of the vehicles presented were Iveco Stralis heavy trucks, 12 of which were powered by biomethane, CNG and LNG.
Also present at the conference was Renault Trucks where it presented two innovations for the transport sector. The first was an all-electric 4.5 ton truck, the Maxity Electric, equipped with a hydrogen fuel cell. The second innovation was the Renault Trucks D 16 ton all-electric truck.
Symbio FCell, La Poste, McPhy Energy and the Compagnie nationale du Rhône (CNR) displayed the hydrogen fuel cell powered Maxity Electric on their stand at the Bassin de la Villette, in order to highlight hydrogen-based solutions that combat climate change as part of their "Paris in the Future" initiative.
At COP 21, in association with the "Climate Visits" presented by the Ile-de-France ADEME (French Environment and Energy Management Agency), Renault Trucks gave visitors the chance to see the all-electric Renault Trucks D. The vehicle generates no noise or polluting emissions during its nightly deliveries to Guerlain's Boutiques in Paris. It carries out full 200 km delivery rounds in all-electric mode, taking advantage of partial recharges carried out according to its battery capacity and the carefully planned delivery route.
Renault Trucks has been testing several different technologies under actual operating conditions in partnership with clients having an assertive strategy with regard to zero-emission vehicles operating in urban environments. Renault Trucks' aim is to prepare a cost-effective zero-emission solution for its clients by the year 2020.