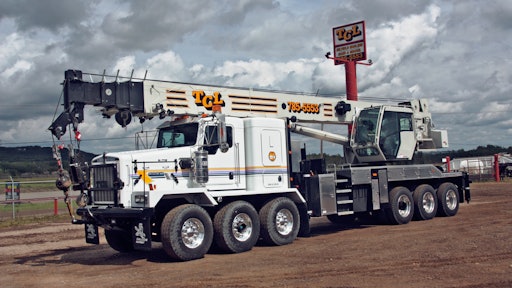 Trans Carrier Ltd., an oilfield trucking and hauling company based in Fort St. John, British Columbia, Canada, added a unique National Crane NBT55 to its fleet.
The NBT55 is mounted on a custom-designed, over-the-road truck made by Kenworth. The truck can pull a trailer and travel with the crane at higher speeds compared to truck cranes or all-terrain cranes.
Trans Carrier Ltd. general manager Tyler Kosick says that efficiency and reducing customer cost motivated the development of this unique vehicle.
"Before our new NBT55, many of the jobs for our customers required both a crane and a tractor-trailer. We spent a lot of time, effort and money to get two units out to the site," Kosick says. "With our new National Crane, we can use a single unit for the lifting work and the hauling. You're basically getting one machine to do the work of two."
TCL was quoting an increasing number of jobs that required a trailer to transport a load, often to a remote site. Traditionally, a customer would rent both a crane and a tractor-trailer to move the load to the site, make the pick, and then return. Getting the crane and the load to the destination could take days, costing customers thousands in rental fees. TCL wanted a single unit that could satisfy all phases of the project, substantially reducing costs.
TCL's NBT55 truck/crane solution is also more environmentally friendly.
"By using only one unit to make the picks and haul the load, customers reduce not only the rental fees, but also fuel costs and the overall environmental impact," Kosick says.
TCL purchased the crane from National Crane dealer Falcon Equipment in Vancouver. Blair Norberg, Falcon Equipment sales manager, says mounting the NBT55 on the Kenworth presented an interesting challenge that required cooperation from both the manufacturers and the customer.
"We were excited to be a part of the project," Norberg says. "It was a collaboration of everyone involved. This is the only NBT55 in North America to be mounted on a semi-tractor. Not only is it a first for TCL, it's a first for Falcon."
Kosick says the machine has performed well in the field, and customers appreciate the convenience.
"We have received some strong feedback about the NBT55," he says. "People are excited about the crane and about how it can run jobs more efficiently."
The NBT55 is currently the largest-capacity boom truck from National Crane, with a capacity of 55 USt and a 102 ft four-section full power boom. The overall length of hydraulic reach is 128 ft, with the five-section boom. And it can be equipped with either a 26 ft or 45 ft boom extension for additional lifting versatility. The crane also features a new outrigger beam position sensing system to aid in load chart selection.