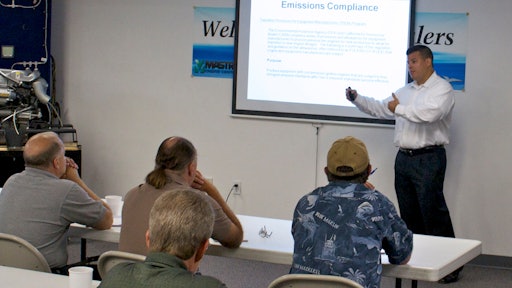 Final EPA Tier 4 emissions regulations take effect January 2013, with many industrial OEMs unaware of their compliance options. Mastry Engine Center recently held a Tier 4 class for its customers about the requirements and new Yanmar industrial engines that will meet them. The Florida-based distributor also educated attendees about the EPA Flex program that eases the transition to Tier 4.
Like other industrial engines under 75 hp that will change drastically with Tier 4, Yanmar models will be fully electronic, common rail fuel injection configurations. They will include a diesel particulate filter and exhaust gas recirculation system.
With the changes, many OEMs will need to reconfigure equipment to fit new engine designs. To help ease the impact on businesses, the EPA's voluntary Flex program, or TPEM (Transition Program for Equipment Manufacturers) enables equipment manufacturers to sell some previously certified Tier 3 engines after Tier 4 implementation.
"Tier 4 is the hot topic. We've been getting many questions from our customers," says Arley Bedillion, Mastry's industrial sales manager. "Some engine manufacturers have the attitude that it's the OEMs' responsibility to educate themselves to comply with Tier 4. But we're partnering with our OEMs, guiding them through the complex regulations and helping them transition to Tier 4 with the Flex program. The response to our class was strong. We packed the room and are planning more sessions soon."
"The class filled in a lot of blanks and answered questions regarding Tier 3 and Tier 4 compliance, and our Flex program letters," says David Berggren of Holland Pump. The company specializes in sales, service and rentals of dewatering pumps for mining, agricultural, horizontal drilling and bypass pumping applications, with eight locations nationwide.
"We have not gotten this kind of educational support from other engine distributors, and Mastry is the only one to provide us with a class on the Flex program. Tier 4 regulations can be difficult to understand, especially since engines are just one component of our equipment. The assistance we received from Mastry has been very valuable."