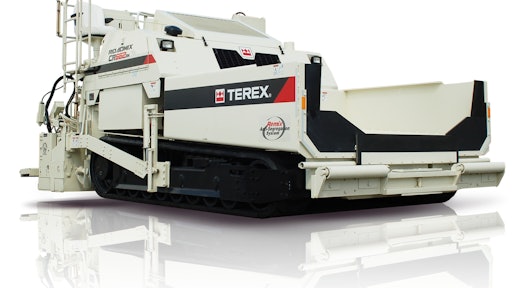 Powered by the field-proven Cummins QSB6.7 turbocharged diesel engine, the new Terex CR662RM RoadMix material transfer vehicle and paver meets stringent Tier 4 Interim (Stage IIIB) emissions standards. Offering the same 260 hp (191 kW) output as the previous model, the machine's new power unit is 5% more fuel efficient to extend operating intervals between tank refills.
The engine features a cooled Exhaust Gas Recirculation (EGR) system with Diesel Oxidation Catalyst (DOC) and Diesel Particulate Filter (DPF) to substantially reduce emissions. Regeneration of the DPF occurs automatically without affecting machine performance. A new cooling system arrangement features larger radiator core size and improved airflow to increase ambient operating temperatures to 120 F (48.9 C).
To offset increased space requirements of the Tier 4 Interim engine components, Terex engineers developed a new low-profile hood design that slopes downward away from the operator to improve working visibility of the hopper. The radiator is integrated into the hood design, so the cleanest air possible is drawn for cooling engine components, so the machine runs cooler. Components from the paver's fume recovery system have been moved from underneath the operator's platform to under the hood, lowering operating noise levels and improving operator comfort.
Measured at 320 x 240 pixels, a new, high resolution display with backlit screen and 15-bit color makes it easy for operators to see the display. This large display helps to alert operators of underlying issues with machine performance, and the system expands diagnostic capabilities over previous models. It also includes setup and calibration screens for use in configuring and calibrating the machine performance. 
The Terex CR662RM RoadMix is the only machine available today that maximizes utilization rates by operating both as a material transfer vehicle (MTV) and paver. Machine design allows contractors to quickly switch between the machine's conveyor system and screed within a matter of hours. When equipped as an MTV, the CR662RM delivers continuous, non-contact and off-set paving capabilities with its swiveling conveyor that swings 55 degrees to the left or right of center.
As a paver, the CR662RM features two, 5-ft. (1524-mm) long spread auger sections that are driven by two independent variable-speed outboard motors, which eliminate the center gearbox drive to reduce the occurrences of centerline segregation. Contractors can equip the CR662RM with one of three different screed models – the diesel or electric Terex Fastach 10, electric Terex VersaScreed, and the electric or diesel Terex Stretch 20. This 10-ft. (3.0 m) paver delivers mainline paving widths reaching 30 ft. (9.1 m) at depths of up to 12 in. (305 mm).
Delivering fast truck exchanges, the CR662RM RoadMix's variable-pitch in-hopper auger design offers high material throughput. Pitch spacing – transitioning from 10 in. (254 mm) in the front to 11 in. (279 mm) and then to 12 in. (305 mm) in the rear – aggressively channels material to the rear of the machine. This auger design helps to boost production capabilities – up to 900 tons per hour (816 tonnes per hour) when equipped as a paver and in excess of 500 tons per hour (454 tonnes per hour) as an MTV. Combined with the aggressive pitch, the auger's constant-diameter continues to reblend 100% of the material to virtually eliminate material and thermal segregation.
Whether equipped as a paver or an MTV, the CR662RM features the patented Terex Smartrac rubber track drive system for more reliable operation. Oscillating bogie wheel assemblies combine with the system's frictionally driven rubber tracks to automatically apply the correct tension, whether moving forward or in reverse. The self-tensioning system does not over tension the track, significantly extending its life. The rubber track drive spreads the machine's 53,000 lbs. (24,040 kg) over a wide area, resulting in a low ground contact pressure of less than 12 psi. This eliminates parking and bridge-crossing issues common with conventional wheel-driven transfer vehicles.