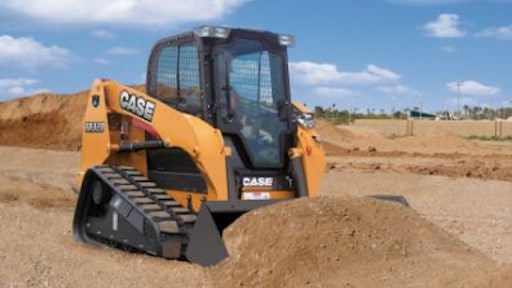 Case Construction Equipment announces upgrades to its four largest Alpha Series skid steers and compact track loaders, which now meet emission requirements for Tier 4 Interim certification.
The Case SR250 and SV300 skid steers and TR320 and TV380 compact track loaders now feature 90 hp (67 kW), 3.4-liter Case diesel engines with the full high-pressure common rail (HPCR) design typically used in larger construction equipment. To meet Tier 4 Interim emissions requirements, Case equipped the models with cooled exhaust gas recirculation (CEGR) technology, including diesel particulate filter and diesel oxidizing catalyst. Case selected CEGR technology as most appropriate for skid steers and compact track loader applications, where the engine typically runs at a high rpm.
Rated operating capacities are 2,500 lbs. (1,135 kg) for the SR250; 3,000 lbs. (1,361 kg) for the SV300; 3,200 lbs. (1,451 kg) in the TR320, and 3,800 lbs. (1,723 kg) for the TV380.
"Case skid steers and compact track loaders have always been known for power and productivity," says Tim O'Brien, Case brand marketing manager. "Our upgraded Alpha Series models not only deliver best-in-class horsepower and industry-leading bucket breakout force – up to 8,585 pounds – but also more torque when you need it."
He continues, "A 12% higher peak torque rise compared to the previous 3.2-liter engine translates into more power at 1,400 rpm, while supporting faster recovery and improved reaction when the engine begins to lug."
O'Brien notes that CEGR technology for Tier 4 is similar to that used in Tier 3, but now the fuel supply and exhaust gas recirculation process are controlled electronically to achieve greater performance and fuel efficiency, as well as even greater reliability – for example, to help protect the engine from overheating.
New piston design optimizes power, fuel efficiency
The Case 3.4L engine in the upgraded Alpha Series skid steers and compact track loaders features a new, patented piston design – specifically engineered for use in HPCR fuel systems – that promotes thorough combustion, optimizes power and fuel efficiency.
The electronic engine controls monitor EGR sensors and other inputs to determine diesel particulate filter (DPF) system regeneration needs. As a normal course of operation, the electronic controls will trigger an automatic regeneration of the DPF system. Additionally, the system can notify the machine operator to manually regenerate the DPF system occasionally when the soot load in the DPF exceeds the range defined for automatic regeneration.
"Automatic regeneration does not cause any adverse effect on vehicle power or performance," O'Brien explains. "The operator can continue to operate the vehicle normally during automatic regeneration."
Controls also provide a wealth of operating data to the display panel for use by the operator and to the service tool to assist technicians.
The Alpha Series includes both radial-lift and vertical-lift models. The radial lift machines (designated with an R in the model name), are ideal for digging, prying and pushing, while the vertical lift models (designated with a V), excel on lift-and-carry applications.
Designed for operator comfort
The new engine delivers lower noise and vibration to keep the operators more comfortable and productive, all day long.
Electro-hydraulic (EH) controls with switchable patterns are available on all Alpha Series models. This is especially helpful when two or more operators run the same machine. Operators can easily switch between control patterns based on preference.
Exceptional visibility, operator comfort, climate management and operator controls define the Case Alpha Series machines. The skid steer cabs, which are the widest in the industry, feature ultra-narrow wire side screens that improve operator visibility. Extra glass surface gives the operator 360-degree visibility.
The Alpha Series cabs also provide a superior climate management system. The sealed, pressurized cab significantly reduces the amount of noise and dust.
Dozer-style undercarriage
As in previous Case models, the upgraded Case TR320 and TV380 compact track loaders feature a dozer-style undercarriage, engineered to hold fast on steep slopes and take command of muddy or sandy terrain.
The undercarriage has a rigid track frame with fewer moving parts, so it is more durable and easier to maintain than suspension track systems.
Easy maintenance
Easy access to filters and engine fluids makes maintenance on the Case Alpha Series models a breeze. The regular maintenance points are grouped in one area so operators do not need to walk around the machine to find specific service points.
Maintenance points, such as the radiator, fuel filter, battery terminals and engine oil fill are easy to find under the engine compartment cover and door. A removable side panel provides access to the engine oil filter and environmentally friendly drain. Additionally, the oil cooler and radiator tilt out for easy cleaning.
O'Brien notes the importance of using ultra low sulfur diesel fuel with HPCR engines.
Fuel systems in the upgraded Case Alpha Series models include primary filtration of impurities down to 10 microns, and secondary filtration to 3 microns. Change intervals for both filters are at 500 hours.