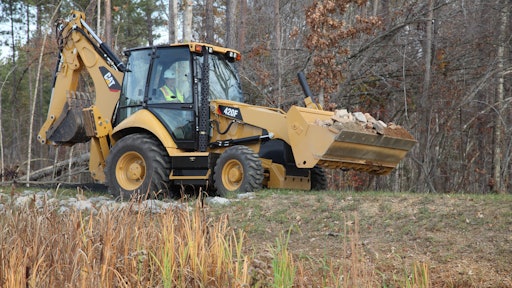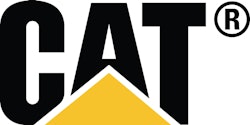 The three new models in the Cat F Series Backhoe Loader range—416F, 420F and 430F—are center-pivot machines featuring significant design enhancements, including a new Cat C4.4 ACERT engine that meets Tier 4 Interim emissions standards, greater lift capacity, more bucket breakout force and increased backhoe control. These new Backhoe Loaders build on the quality and reputation of their E Series predecessors and provide an even higher level of performance, operator convenience, durability and serviceability.
Premium features retained in the design of F Series models from their E Series counterparts include a powerful, load-sensing, closed-center hydraulic system; the Cat four-speed Power Shuttle transmission for on-the-go directional and range shifting; excavator-style boom for added clearance when digging over obstacles or loading trucks; and ergonomic, automotive-style operator's station that provides innovations in safety, comfort and convenience.
Engine, driveline, hydraulics
The electronically controlled Cat C4.4 ACERT, using a high-pressure common-rail fuel system for operating efficiency, is equipped with the Cat NOx Reduction System and a diesel particulate filter for emissions reduction. Net horsepower remains unchanged for the 416F and 420F, at 87 (65kW) and 93 (69kW), respectively, but increases to 109 (81 kW) for the 430.
Driveline refinement for the new models includes a more aggressive torque converter in the 420F for improved performance when both loading and roading, and hydraulically boosted brakes for the 416F. Both the 420F and 430F have a new electronic pump torque limiter for improved power management and improved hydraulic performance. Hydraulic refinement also includes more precisely tuned spools in the backhoe valve, providing exceptional controllability.
Performance at the loader end gets a significant boost with the new F Series models. New lift arms for both single-tilt and IT (Integrated Tool Carrier) models increase maximum hinge-pin height by 5%, maximum dump height by 7%, bucket breakout force by as much as 9%, and lift capacity at maximum height by as much as 13%. In addition, loader changes result in improved material retention for IT models.
Durability, Serviceability
The new F Series models use a composite fuel tank that resists rust and reduces condensation, and a new hydraulic tank incorporates a suction strainer and a larger, replaceable, cartridge-type filter. The new hinged cooling pack improves service access, as do new engine side panels that require no tools for removal.
The relocated battery compartment (moved to the nose of the tractor) leaves space for a right-hand storage box, and a new remote jump-start feature provides easy access. New one-piece counterweights contribute to improved machine balance, and a new double-clevis swing casting design adds durability.
Options for the F Series include the exclusive Cat Product Link system (for remote reporting of machine location and operating system parameters) and a cold-climate package that includes a heavy-duty battery and engine-block heater.