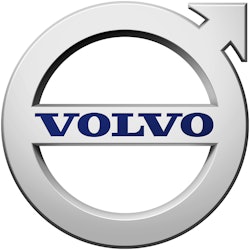 Volvo Trucks has announced plans to launch its own 13-liter liquefied natural gas (LNG) engine for North America in 2014.
The engine's advanced high pressure diesel ignition technology will provide significant fuel efficiency gains compared with current natural gas products. Combined with the company's previously announced offering of compressed natural gas (CNG)-powered Volvo VNM and VNL model daycabs, the new engine will provide customers with a complete range of natural gas-powered transportation solutions. Volvo is also testing another fuel that can be produced from natural gas, DME (dimethyl ether), which has the potential to become an attractive alternative for the North American market.
"Despite the near-term infrastructure questions regarding widespread adoption of natural gas as a heavy-duty truck fuel, it's clear this segment will grow over the next several years," says Ron Huibers, President of Volvo Trucks North American Sales & Marketing. "We're already delivering factory-built CNG-powered trucks, and as the long-haul fueling infrastructure develops, the advanced technology in our new LNG engine will provide increased range and improved fuel efficiency in a seamlessly integrated Volvo powertrain."
Blue Power: LNG for the Demanding Long Haul
Through advanced high pressure diesel ignition technology – using trace amounts of diesel to ignite the natural gas – Volvo's LNG engine will deliver a 30% fuel efficiency improvement compared with spark-ignition (SI) engines, making it a viable alternative for demanding long-haul applications. The Volvo 13-liter LNG engine will also reduce greenhouse gas emissions by about 20% compared with current diesel products.
The engine will accomplish these savings without sacrificing power, torque or fuel efficiency, all of which are critical attributes for on-highway operations. The Volvo Group was the number one supplier of 13-liter heavy-duty engines to the combined U.S. and Canadian market last year, and the same vertically integrated approach that has made Volvo a global powertrain leader is being applied to the development of the new engine. The company's proprietary Volvo I-Shift automated mechanical transmission also will be available for customers to specify.
Blue Power: CNG for Closed-Loop and Delivery Applications
North America's abundant supply of natural gas, and the reduced emissions and minimal aftertreatment CNG engines offer, make the technology an ideal solution for customers operating in localized or closed-loop applications. To meet current demand, Volvo offers the CNG-powered VNM daycab equipped with a factory-installed Cummins ISL G engine.
The company also recently announced that it is operating natural gas-powered VNL demonstrator trucks. The larger, more robust VNL model features a 12-liter Cummins-Westport ISX12 G gas engine. Factory production of the natural gas-powered VNL daycab will begin in conjunction with commercial availability of the 12-liter gas engine in early 2013. These heavy-duty engines feature maintenance-free aftertreatment, requiring only a three-way catalyst to meet EPA 2010 emissions standards.
Blue Power: DME Shows Promise in Customer Tests
The Volvo Group has conducted hundreds of thousands of miles of customer field testing of trucks equipped with DME, which can be produced from natural gas. The strong results – from 10 vehicles operating in a variety of applications in Europe – indicate DME holds much promise as a heavy-truck fuel, and could become a viable alternative in North America to CNG or LNG when it comes to performance, environmental impact, safety and distribution.
DME mirrors the exceptional performance qualities and energy efficiency of diesel while significantly reducing GHG emissions. It is an excellent compression ignition fuel which, like diesel, requires no separate ignition mechanism. Unlike LNG, it does not require cryogenic temperatures; it is handled like propane, with tank pressures of 75 psi (versus 3,000 psi for CNG), and it is non-toxic. DME burns with a blue flame and requires no diesel particulate filter. DME packages densely enough to allow long range transports or to allow room for vocational truck equipment on the frame.
"Since we adopted Environmental Care as a core value in 1970s, Volvo has dedicated the resources necessary to lead in alternative fuel technologies," Huibers says. "We demonstrated in 2007 our ability to run vehicles on seven different fuels, and we continue to refine our work with a variety alternative fuels and drivelines. Our comprehensive 'Blue Power' strategy – including CNG, LNG, and potentially DME – means we'll have a complete range of natural gas solutions as the infrastructure develops."