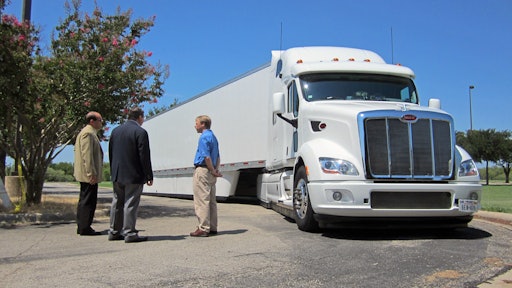 Peterbilt Motors Company showcased advanced technologies developed to optimize commercial vehicle fuel efficiency during the annual Energy Summit & Fair held on the campus of the University of North Texas (UNT), home of the PACCAR Technology Institute. The event was hosted by U.S. Rep. Michael C. Burgess, M.D., who serves on the House Energy and Commerce Committee.
"The Energy Summit & Fair is a great opportunity for us to help educate the public about the numerous and significant improvements in commercial vehicle fuel efficiency. It highlights the advanced, environmentally responsible systems and technologies that are engineered into today's medium- and heavy-duty trucks," says Landon Sproull, Peterbilt's Chief Engineer. "It also provided the opportunity to showcase our SuperTruck, an advanced concept vehicle we are developing in conjunction with Cummins Inc. through a U.S. Department of Energy program."
The SuperTruck, Sproull says, was on display at the event for attendees to see and learn about firsthand. It features cutting-edge technologies integrated throughout the tractor and trailer that have surpassed goals by achieving more than 10 miles per gallon during real-condition testing. Average, industry-wide fuel economy for an on-highway tractor-trailer is approximately 6 miles per gallon.
Peterbilt's Don Vollmar, Director of Product Planning, was a featured speaker at the event and discussed initiatives Peterbilt and the industry are engaged in to optimize commercial vehicle fuel efficiency and overall environmental stewardship.
"Promoting environmental responsibility and reducing dependence on foreign energy sources are top national concerns. We're pleased Peterbilt could again join our Energy Summit & Fair to show how commercial vehicle manufacturers are doing their part," said Burgess. "It's exciting to see the technologies in development that will take truck fuel efficiency to unprecedented levels. It was a great complement to the event which also showcased the local high school's participation in the national student solar-powered car competition as well as the energy efficient design and construction of homes and buildings."
Regarding the latter, attendees had the opportunity to tour the university's Zero Energy Research Laboratory, designed and managed by Dr. Yong X Tao, University of North Texas Professor and Chair of the Department of Mechanical Energy Engineering, UNT Distinguished Research Professor and Director of the PACCAR Technology Institute. The 1,200-square-foot lab is used by students and faculty to test present and future sustainable technologies such as structure-integrated insulation, building-integrated solar panels, energy-efficient windows and energy storage and monitoring systems.
PACCAR Inc is Peterbilt's parent company and is a significant benefactor to many charities and organizations, including universities and research institutions. The PACCAR Technology Institute is a unique, non-traditional interdisciplinary research unit of UNT focused on developing alternative energy and energy efficiency of vehicles, buildings and industrial processes. It utilizes the talents and knowledge of academic researchers and industry experts from engineering and physical and social sciences.
The Energy Summit & Fair was attended by approximately 200 people and also featured a federal keynote address from Ron Curry, Administrator of the U.S. Environmental Protection Agency's South Central Region, and a state keynote address from Dr. Bryan Shaw, Chair of the Texas Commission on Environmental Quality.