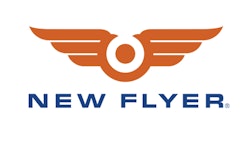 New Flyer of America Inc., a subsidiary of New Flyer Industries Inc., the leading manufacturer of heavy-duty transit buses in the United States and Canada, announces that Omnitrans of San Bernardino, CA, has awarded New Flyer a contract for up to 217 heavy-duty 40-foot Xcelsior, compressed natural gas (CNG) transit buses.
The contract, valued at over $119 million, includes a firm order for 15 buses with options for an additional 202 buses over four years. With Omnitrans acting as the lead agency on this consortium procurement, the 202 options are eligible for execution by seven other participating California transit agencies including: Culver City, Elk Grove, Montebello, Torrance, Stanislaus, Sunline Transit and UC Davis.
Established in 1976 through a joint powers agreement, Omnitrans carries approximately 16 million passengers annually throughout its 480-square mile service area, covering 15 cities and portions of the unincorporated areas of San Bernardino County (approximately 1.4 million residents). Major destinations within the Omnitrans service area include: transportation centers, medical centers, educational facilities, shopping malls, business parks and community centers. Omnitrans currently operates a fleet of 177 heavy-duty transit buses, 168 of which were built by New Flyer.
"We are proud to be given the opportunity to once again build for the City of San Bernardino and its partner agencies on this joint procurement," says Paul Soubry, President and Chief Executive Officer of New Flyer. "New Flyer has nearly 20 years of experience with natural gas powered transit buses, having delivered over 5,000 to more than 75 customers and we've gained invaluable experience allowing us to provide the most advanced and reliable CNG bus in the industry."
This award was one the orders referred to in New Flyer's Orders and Backlog Press Release issued on July 15, 2015 where 1,238 EUs of new firm and option orders were pending from customers at the end of the period, where approval of the award to New Flyer had been made by the customer's board, council, or commission, as applicable, but purchase documentation had not yet been received by the company and therefore not yet included in the backlog.