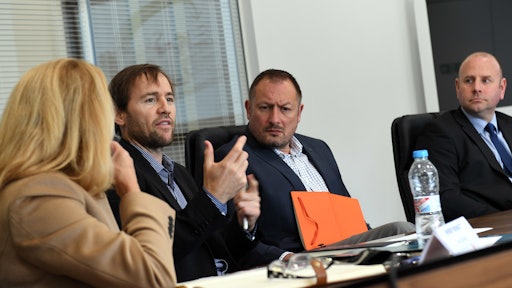 Manufacturing business were upbeat about the potential business transformation that technology is bringing at a recent Made in the Midlands Roundtable event on Manufacturing for the future, the Fourth Industrial Revolution (4IR) hosted by engineering and manufacturing recruitment specialist Jonathan Lee Recruitment, at Ricoh UK's Telford facility.
Up for debate were topics including the impact of robotics and automation on competitiveness; evolving and engaging the workforce to embrace the potential of industry 4.0; planning for skills – how manufacturing could change over the next 10 years; and how we can make sure the UK leads the field in 'on demand' manufacturing.
Attendees highlighted the positive impact that technology, especially robotics, automation and data could have on business performance, by dramatically reducing manufacturing costs, increasing efficiency and creating fresh opportunities to innovate and grow.
They also agreed that the workforce had a vital role to play in the successful roll out and implementation of transformational business practices. Skills development, knowledge transfer, innovation, expansion and job creation were all opportunities that technology could help deliver to the region's manufacturing businesses.
David Woakes, Group Business Development Manager, at Jonathan Lee Recruitment commented, "The Midlands has always been a hub for manufacturing innovation and excellence. Many savvy, Midlands-based SME businesses are embracing the so-called 4th Industrial Revolution which will see the manufacturing industry revolutionized once again by breakthrough emerging technologies such as automation and robotics, the internet of things, 3D printers, artificial intelligence and nanotechnology.
"Organizations that adapt their business models and implement the shift towards digital and disruptive technologies will find themselves more competitive on the global stage, vastly more productive and with the capability to mass-customize products."
Jonathan Lee Recruitment will demonstrate its commitment to the future of manufacturing and 4IR on stand 42 at the Made in the Midlands Exhibition, taking place on May 25, 2017 at the Ricoh Arena, Coventry. The recruiters will be offering their advice, supporting innovative businesses find the specialist skills to make the most out of the rapid advances in technology that are driving this new industrial age.