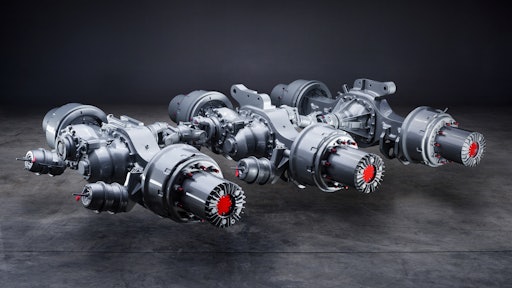 LK Photographic, Inc.
Meritor Inc. recently collaborated with Peterbilt Motors Co. to specify an axle for its customer Great Northwest—a heavy construction business—who was looking for a Class 8 truck capable of hauling heavy loads while traversing the remote and often difficult terrain in which it operated in Northern Alaska.
The vehicle needed to be able to haul loads up to 250,000 lbs. (113,398.09 kg), have 10 ft. (3.05 m) wide axles, double lockers, and at least a 70,000-lb. (31,751.47 kg) differential to pull big trailers, explains Jared Bounds, Truck Sales Representative at Western Truck Center, the Peterbilt dealer who worked with Great Northwest. "We started exploring our options of what was out there," he says. "There's a lot of 10 [ft.] wide axles but getting double lockers tended to be a problem."
He then began working with Ben Reineck, Senior Manager, Business Development (Off-Highway) at Meritor Inc., who explained to him about the company's planetary axles, and "how they're rated heavier, stronger, [and could come] with double lockers," says Bounds.
For a project such as this, Reineck says "the key is really looking at the application." Meritor knew the Peterbilt trucks needed to be capable of pulling very heavy loads—much more so than when driving up and down the freeway—and would need to do so using wide trailers.
After evaluating the needs of the application—taking into consideration not only load capacity but also aspects such as vehicle speeds, road grades and terrain, it was determined Meritor's P600 Series planetary axles would be the best choice.
The P600 is designed for heavy haul, oil field, logging and mining applications, enabling it to meet all of Great Northwest's requirements. Available in single, tandem and tridem configurations, the P600 has maximum gross axle weight ratings (GAWR) of 84,000 lbs. (38,101 kg) for the tandem and 126,000 lbs. (57,152 kg) for the tridem, and maximum gross combination weight ratings (GCWR) of 420,000 lbs. (190,509 kg) for the tandem) and 560,000 lbs. (254,011.73 kg) for the tridem. It also has an overall axle ratio range of 3.46:1-24.8:1.
Selecting the right axle for the job
Meritor was able to use standard off-the-shelf components for this project, as the P600 is a family of planetary axles. Reineck says there are different features and options from which to choose in order to meet varying application needs, such as those of Peterbilt's customer Great Northwest. "It was about ensuring we picked the right options based on what Jared and the end user were specifying," he says. "We created the specific part number to sell Peterbilt the axle, [making] sure to pick the right features that were already part of the product family."
A wide track width—80 in. (2.03 m) track axle—was an important feature to include due to the desire for a wide platform as well as wide tire width to ensure stability. The inclusion of double lockers, differential locks and interaxle locks, was also an important aspect for the customer. "In an off-road environment, [that] allows you to lock all the wheels and have power to every wheel which is important when you start to lose traction—whether that be due to grades [or] type of terrain," says Reineck.
The selected engine and transmission had to be taken into consideration when determining the best features and options for the P600 axle, as well. Bounds says the customer wanted the biggest engine available in a Class 8 truck—leading to the use of a 605 hp (451.15 kW), 2,550 ft.-lbs. (3,457.34 Nm) Cummins Inc. engine and 18-speed transmission. "So, the planetary axles had to withstand the torque of this combination, as well," he says, in addition to meeting the other requirements of the application.
Knowing the engine and transmission specifications ensured Meritor's engineers would be able to determine how much power would be coming into the axle and how much traction on the road, as well as how much power would be transmitted to the road, explains Reineck. "Looking at all those numbers and making sure everything will work together and we're not going to have issues," he says is important, especially when also factoring in the road grades and surfaces. That all plays in to the overall design of the axle.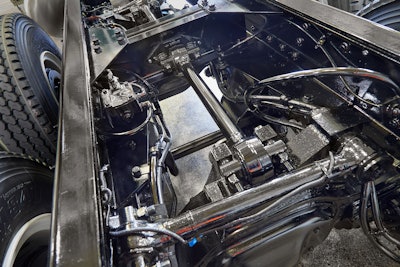 "It's a matched system—the engine, transmission, driveline and the axle are from different people approving and specifying," he says. "It's all matched to what the end customer, Great Northwest, came in and said it needed."
Once the axle design and other powertrain components were selected and matched, Peterbilt handled the production engineering side of things, confirming all of the products would fit as they should within the selected truck design.
Collaborating on this project as Peterbilt and Meritor—as well as other suppliers—did ensures the complete powertrain works correctly and meets all of the customer's application requirements. "You need every powertrain part to be right to get the job done correctly and reliably without any issues down the road," says Reineck. "At the end of the day, this truck is a big large tool to accomplish a job. Some of the biggest advantages of all the different groups from the multiple companies [working together] is we're able to work closely and have enough conversations, and the right conversations, together to ensure when the truck gets delivered…we didn't miss anything or skip any steps because everyone was involved.
"We're all working together to make sure the right product gets to the customer," he concludes.
Companies in this article