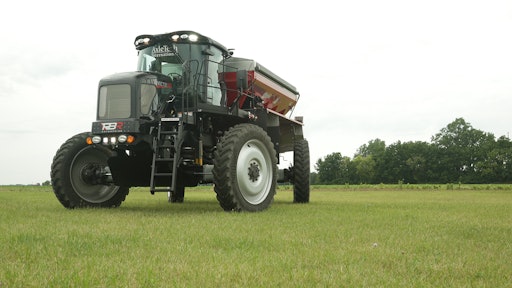 AxleTech International, a leading innovator of specialty drivetrain technology, announces that it has partnered with RBR Enterprise, a manufacturer of farming application equipment, to develop and bring to market a new row crop applicator to increase farming productivity.
RBR is committed to bringing innovative solutions that continue to advance the efficiency and productivity of modern agricultural equipment. The company is introducing its new Vector 300 row crop applicator with AxleTech Variable Track Axles. This first-in-kind applicator features mechanically-driven steerable axles that allow for a full 15-in. extension per side, 150% more than the extension of competing designs. At the push of a button, the operator can adjust the axle track width from the cab using a touchscreen. There are five preset track widths to accommodate varying row crops: 114, 120, 132, 138, and 144 in., as well as custom settings.
The AxleTech variable track axles provide a heavy-duty solution with a Gross Axle Weight Rating (GAWR) of 32,000 lbs. (14.5 T). A key feature to the Vector 300 is its four-wheel steering, which allows for a tighter turning radius. This also allows the applicator to perform crab steering, which greatly enhances control when operating on a hillside.
"The variable track axles are an example of AxleTech engaging customer and employees on technology collaboration. We always aim to provide our customers value through innovation," says Jay DeVeny, Vice President of Engineering at AxleTech.
"This axle system will significantly improve the efficiency and performance of our equipment. Our strong partnership with AxleTech has produced an innovative new product that we are excited to introduce," says Jason Eaton, General Manager of RBR Enterprise.
The Vector 300 with variable track axles is on display at the MAGIE show in Bloomington, IL, on August 23 and 24. Attendees will be able to see live demonstrations at the RBR booth 608.
Companies in this article