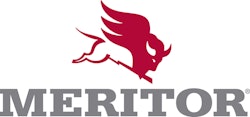 Meritor Inc. announces its award- winning P600 planetary axles are available with optional 5-planet wheel-ends and can now be configured for use with central tire inflation systems (CTIS).
The optional 5-planet wheel-ends allow a 20% higher gross combined axle weight rating (GCWR) over the 4-planet version and feature integrated cooling technology to reduce axle operating temperatures. With CTIS configuration, drivers can maintain and adjust tire pressure for enhanced performance in varying conditions.
"Heavy-haul customers are embracing the P600 series axles for outstanding performance, capabilities and best-in-class features," says Steven Luepke, Director, Off-Highway for Meritor. "Five-planet wheel-ends and CTIS compatibility reinforce Meritor's continued development of solutions for heavy-haul, oilfield, logging and mining applications."
San Francisco-based Bigge Crane and Rigging Co., one of the largest crane rental, crane sales and project services companies in the country, has installed Meritor P600 tandem axles on several heavy-haul tractors to maximize capacity and reduce total cost of ownership. 
"The 5-planet P600 axles work seamlessly with our existing trucks and powertrains, making the integration process efficient," says Vaughn Hersey, Senior Project Engineer, Bigge Crane and Rigging Co. "Meritor has clearly demonstrated its understanding of the particular needs that are inherent to heavy-transport projects, and we're pleased with the performance, power and durability we've seen."
Recognized as a 2015 Top 20 Product by Heavy-Duty Trucking, the P600 tridem configuration was also named one of OEM Off-Highway magazine's Top 10 New Products of 2017 − the only axle to receive this recognition.