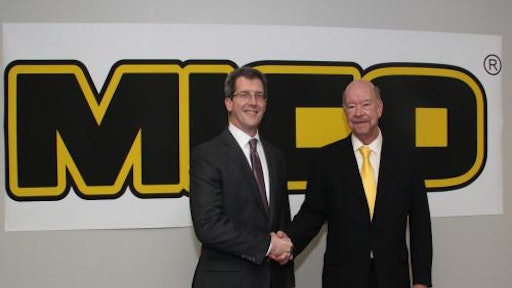 Consolidation is a natural part of a slow-to-recover market. Sometimes market consolidation happens when companies leave the industry altogether, such as what China is currently experiencing. Other times it happens through partnerships, joint ventures, mergers and acquisitions. Seeking an opportunity for expansion in its product portfolio and geographic reach, WABCO acquired MICO Inc.—a perfect fit for its goal to become a market leader in the brake control business.
"The acquisition came about because of the complementary nature of the two companies," explains Hubert Flahaux, Vice President of WABCO's Off-Highway Business Unit. Both companies are centered around braking control systems; WABCO is predominantly pneumatic and MICO focuses on hydraulic-based brake systems.
Since hydraulic brake systems were the most dominant medium for brake control in mining and construction vehicles, WABCO saw that as an opportunity for market expansion beyond its current on-highway-centric market reach. "We needed to get into the mining and construction space more strongly, and we figured we were better off finding someone with legacy engineering expertise who knew the market and its customers," says Flahaux. "WABCO wants to be a market leader in the brake control business, not just pneumatic on-highway applications."
Another benefit to the acquisition beyond the technological synergies is the geographic expansion. "Even though WABCO is an American company, our North American presence is limited. MICO's strong foothold in the U.S. was a huge benefit, and in return MICO can leverage the WABCO company network in Asia and Europe," Flahaux says.
Since the acquisition in February—and the official showcase of the merger at bauma 2016—the two brands have been cross-promoting one another's product portfolios to their individual customer bases around the world. "WABCO customers in Europe have expressed an increased interest in MICO technologies, especially in the areas of agriculture and construction. We've noticed the same trend for WABCO customers in the construction business in China. We hope to leverage these developments into growth opportunities for WABCO' off-highway business," Flahaux says.
Beyond the geographic and product portfolio synergies gained with the acquisition, Flahaux notes that the "DNA" of the two companies are a good match, both emphasizing strong engineering capabilities and a commitment to excellence in execution. "We've learned a great deal from each other in the integration process," he says. "For example, applying the WABCO Operating System (WOS) and related standards at MICO, we have further advanced MICO's production quality standards to zero PPM and a delivery fill-rate in line with the automotive-like expectations of the global off-highway OEMs. In turn, WABCO team members have learned from MICO's playbook on rapid prototyping and integrated engineering."
Several new product development projects have been discussed following the acquisition. One such example is an electro-hydraulic traction control system that would allow dump truck manufacturers to significantly reduce tire wear and improve their total cost of ownership (TCO).
As the on- and off-highway mobile equipment industries continue to pursue smart vehicle technologies and automated system integration, the opportunities to leverage the unique pneumatic, electric and hydraulic brake control systems will continue to expand.