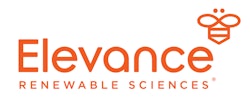 Elevance Renewable Sciences Inc., was named a 2015 New Energy Pioneer award winner by Bloomberg New Energy Finance. The award, which was presented this morning at the eighth annual Bloomberg New Energy Finance Summit in New York City, recognizes 10 global companies whose innovation is revolutionizing the energy sector.
"We are pleased to receive this award, and are honored to be included among other innovators in the energy category," says Elevance CEO K'Lynne Johnson, who accepted the award on behalf of the company.
A panel of industry experts selected the winners against three criteria: potential scale, innovation and momentum. Elevance was recognized for commercially supplying better-performing, cost-competitive renewable alternatives to petrochemicals across multiple industries.
Elevance's recent introductions include the Inherent line of renewable building blocks; personal care product lines, Elevance Smooth and Elevance Soft; Elevance Aria base stock and Elevance Concert additive for the lubricant industry; and Elevance Clean ingredient for the cleaning industry.
Elevance's specialty chemicals enable: detergents to be more concentrated and clean better in cold water; hard surface cleaners to be VOC exempt with superior degreasing performance; lubricant base oils with improved stability and fuel economy to better protect equipment; and unique monomers for bio-based polymers and engineered plastics that reduce automotive weight, which improves car fuel efficiency and the environmental footprint of transportation.
In addition, Elevance's low-pressure, low-temperature process uses Nobel Prize-winning innovations in metathesis catalysis that consumes significantly less energy and reduces greenhouse gas emissions by 50% compared to petrochemical technologies.
Bloomberg New Energy Finance issued a news release, saying, "By rewarding game-changing innovators, Bloomberg New Energy Finance hopes to show the profound transition in today's energy system, towards new business models, technologies and market structures that are creating great commercial opportunities."
The full list of winners can be found online.