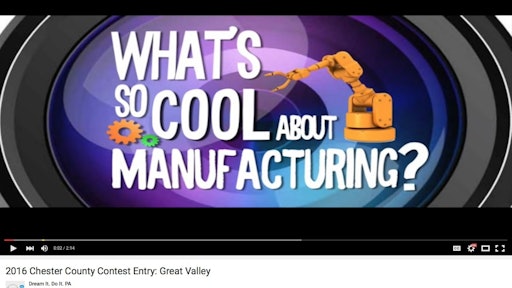 Southco Inc., the global leader in engineered Access Hardware Solutions, recently partnered with the Manufacturing Alliance of Chester and Delaware Counties in Pennsylvania to support the production of student videos about local manufacturing operations. The videos were part of a contest meant to dispel the outdated image of manufacturing, and instead focus on "What's So Cool About Manufacturing?"
Videos were intended to introduce the local community to the lean and clean work environments found in the highly technical field of today's manufacturing industry.
As part of the contest, teams of ninth grade students from area school districts took a teacher and a GoPro camera kit into local manufacturing companies in order to create a two-minute video capturing what they thought was cool about the company's products, workforce and technology.
Southco has been a longtime supporter of STEM initiatives and programs throughout the Greater Philadelphia region. "We were especially excited about getting involved in this video contest because it addresses a big issue: the negative image of manufacturing among the nation's youth. It gave us the opportunity to show that STEM jobs are some of the coolest careers around, and the video will hopefully play a small role in encouraging students to consider higher education STEM programs or to enter the STEM workforce," says Al Frattarola, Global Director of Engineering and Technology, Southco.
Southco partnered with Great Valley School District to film the company's headquarters and manufacturing facility in Concordville, PA. The video highlighted robotic manufacturing, computerized monitoring systems and the design engineering process all taking place in Southco's highly automated and clean facility.