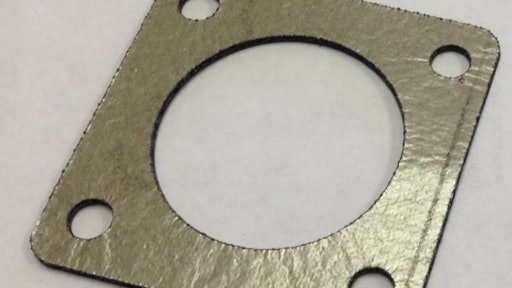 Metal Tech Industries offers the HT514 composite gasket material for applications where extreme temperatures are present and other gasket materials fail to survive.
Can be placed in exhaust and aftertreatment systems
Formulated for high heat, scrubbing and vibration
Features a high-temp facing product mechanically clinched to a durable stainless steel core layer, providing strength and durability in both handling and service conditions
Able to survive temperatures up to 1,050 C/1,922 F
Composite material well suited for high-temp sealing joints as the structure and thickness provide compensation for flange irregularities and deformation due to thermal expansion
Features outstanding ignition loss characteristics, compressibility and recovery
Resists oxidation and corrosion in harsh sealing environments
Available in sheet form, with large sheet size for optimum utilization in the cutting process
Fabricates well with traditional cutting methods as well as waterjet and flash cut techniques
Thicknesses available include 0.040 in., 0.065 in. and 0.135 in.
Request More Information
Fill out the form below to request more information about
Metal Tech HT514 Composite Gasket Material