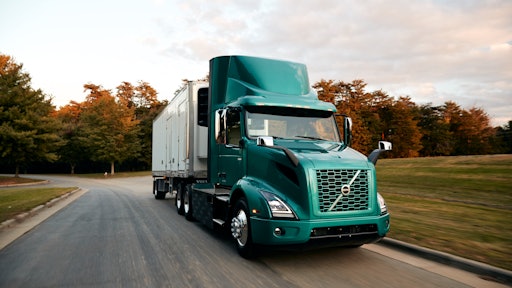 Volvo Trucks North America
Development of electric vehicles and equipment is nothing new. However, there has been increased activity in this area in recent years as technology has matured and costs have come down. As such, many OEMs are ready to begin bringing their electric-powered solutions to market.
Volvo Construction Equipment (Volvo CE), for instance, announced in mid-2020 it would begin taking orders for its ECR25 and L25 electric machines. Orders are currently being taken in North America and several European countries, with the first deliveries of production machines expected in June 2021.
The company has been developing its electric machines, and testing them with customers, for several years now. Doing so has assured the technology is proven and reliable for various construction applications. During bauma CHINA 2020, Volvo CE announced two new electric excavators would be entering customer trials—the EC55 electric and EC230 Electric. Powered by lithium-ion batteries, the excavators are designed to provide a full day of work with a high-power charge during a worker's lunch break. Though not yet commercially available, the new electric-powered machines demonstrate the company's continued advancement of its electrification technology.
Sister brand Volvo Trucks North America (VTNA) began taking orders for its VNR Electric, which has been undergoing real-world testing as part of the Volvo LIGHTS project in California, in December. It will begin producing the trucks at its facility in Dublin, VA, in early 2021.
The Volvo VNR Electric is designed for customer applications and driving cycles with local and regional distribution ranges, including food and beverage and pick-up and delivery routes. The 264-kWh lithium-ion batteries, which charge up to 80% within 70 minutes, have an operating range of up to 150 mi. (241.4 km) based on the truck's configuration. Advanced battery chemistries deliver increased power at reduced costs, while self-learning controls optimize energy usage. Regenerative braking can increase range by returning power up to 15% back into the battery, depending on the duty cycle. According to VTNA, Cutting-edge battery monitoring technology relays the state of health for the energy source in real time, streamlining service needs and maximizing uptime.
Meanwhile, the global Volvo Trucks organization announced it plans to offer a complete range of electric heavy-duty trucks in Europe starting in 2021.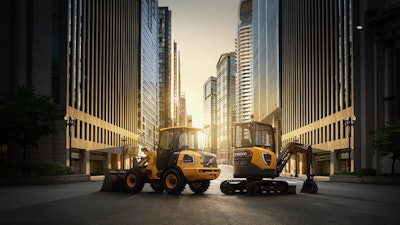 Component availability is key
An important aspect for any vehicle or equipment design—and particularly electric vehicles—is ensuring the right components are used for the application. Introduction of new components developed specifically for electric vehicles and equipment has been a key enabler to these vehicles' entry into the marketplace.
Many OEMs have formed partnerships with component suppliers who have also been focusing their research and development efforts on electrification solutions. Doing so helps to ensure components utilized are optimized for use in an electric-powered vehicle which has different characteristics from traditionally powered ones.
PACCAR, for instance, has announced partnerships with both Meritor and Dana—companies which have introduced several electric drivetrain components in recent years. Meritor was selected as the initial launch partner and primary supplier for the integration of functional battery-electric systems on the Peterbilt 579EV and 520EV trucks, both of which are now available for order.
Both Peterbilt electric trucks use Meritor's 14Xe e-axles which provide power to the wheels. Electric motors in the e-axles are capable of capturing regenerative braking energy to help recharge the trucks' batteries and extend vehicle range.
New components continue entering the market, as well, which will further aid vehicle and equipment designs. The UK-based company Equipmake recently introduced two new electric motors, one of which was designed specifically for off-highway equipment. The APM electric motor utilizes a spoke architecture to optimize cooling which helps the motor to produce more power and torque.
Charging infrastructure will also be a vital component to the uptake of electric vehicles. Because of this, many OEMs are doing their part to help expand charging infrastructure. Daimler Trucks North America (DTNA) recently announced it will co-develop "Electric Island", a large public charging site for medium- and heavy-duty electric commercial vehicles. It is designed to support up to nine vehicle charging stations with charging levels of up to greater than 1 megawatt by spring 2021.
According to DTNA, Electric Island will help inform the company's work in commercial electric vehicle development as well as its partner in the project Portland General Electric's (PGE) work in meeting customer charging needs.
Charging has been an important aspect of the Volvo LIGHTS project, as well. REMA EV Connections—a provider of charging connectors—has worked with other suppliers participating in the project to get UL certification for its Combined Charging System CCS2 connector. This certifies the connector meets North American safety standards and enables fleets to purchase the fast-charging system directly from suppliers. It also helps utilities expand upon their list of approved charging options for infrastructure programs.
Equipment manufacturer JCB recently announced it was expanding its line of electric-powered equipment. As part of of that introduction, the company has also developed a rapid Universal Charger which is designed to be compatible with its current and future E-TECH electric models.
Working with machine electrical systems from 48-96V and above, the JCB Universal Charger offers customers an off-board rapid-charging solution, allowing them to extend working capability with battery electric construction and industrial machinery. All JCB E-TECH equipment is supplied from the factory with a standard built-in charger and rapid charger preparation.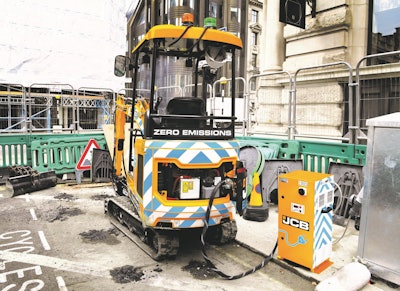 Testing remains integral part of the equation
Though new electric vehicles and equipment are beginning to enter the marketplace, there is still a long way to go in the realm of electrification. Real-world testing will continue to be a necessary part of the process, especially as manufacturers look to further optimize current designs and expand the types of vehicles and applications in which their technology can be used.
With production for the Mack LR Electric slated to begin in 2021, Mack Trucks announced in October pre-production models would undergo in-service trials with Republic Services. This will help the company get better insight into how the vehicle performs in demanding refuse applications. The truck is powered by four batteries and features a powertrain which delivers 4,051 lb.-ft. (5,492.4 Nm) of torque available from 0 rpm.
Republic Services will utilize the LR Electric on one of its residential recycling collection routes and evaluate it for range, functionality and payload capacity.
The LR Electric is also undergoing testing with the New York City Department of Sanitation (DSNY) and will be based at its Brooklyn North 1 garage. DSNY is the world's largest municipal sanitation department, with roughly 12,000 tons of refuse and recyclables collected each day by more than 6,000 vehicles. Electric vehicles like the LR Electric are part of the city's initiatives to reduce greenhouse gas emissions 80% by 2035.
Southern California Edison (SCE) recently took delivery of a Freightliner eCascadia, a Class 8 battery-electric truck. SCE will test the truck for 3 months, and plans to use it for material transport and moving heavy equipment such as transformers.
"It's critical that we collaborate with customers across multiple segments to further our understanding of how commercial battery-electric trucks will be part of a long-term solution in CO2-neutral transportation," said Richard Howard, Senior Vice President, On-Highway Sales and Marketing, Daimler Trucks North America, in a press release announcing the test project. "Our customers provide important, continuous feedback that contributes to our ongoing design and purposeful innovation of these trucks, and together we will lead the future."
As the first customers begin using these newly released electric vehicles, time will tell how they perform in real-world operating scenarios and how that will impact future development efforts.
Companies in this article