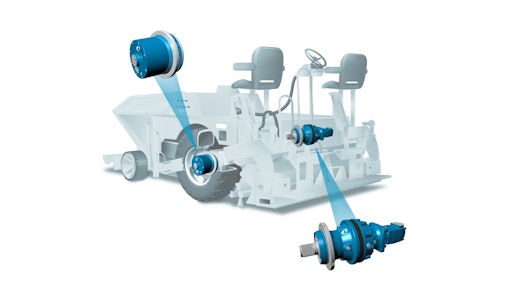 Comer Industries is participating in Pollutec 2014, the exhibition dedicated to innovative solutions able to reduce environmental impact, which will be held at the Parc Eurexpo in Lyon, France, from December 2 to 5 (Hall 3, Booth A174).
The event covers an exhibition area of 100,000 square meters and will be attended by 2,300 exhibitors; 400 conferences and 200 innovation previews are on the agenda. Three key topics will be the main focus of the show: sustainable urban development; high performance and responsible production; hospital sustainable development.
Among the products on display at Pollutec, Comer Industries will exhibit the S-128 axle which provides the highest torque, braking and efficiency performance in its category. This axle is conceived to be modular and versatile: it can equip all the most important applications for the industrial and agricultural markets; it is suitable for operating machines with total weight up to 11 tons and 66 kW of installed traction power and can be used for off-road applications (such as the telehandler, with a load capacity of up to 3 tons, the compact front loader, with an empty weight of 6 tons) and for the sweepers. Thanks to the self-adjusting oil-bath multi-disc service brakes fitted symmetrically to both the axle shafts, and the parking brake integrated with negative control, the S-128 series can satisfy the most demanding safety requirements, offering a solution that does not require maintenance.
On display also will be the 068 rigid axle, which features a maximum output torque of 850 daNm and a maximum dynamic capacity of 3,600 daN.
In addition, Comer Industries will exhibit the PGA-2502 VM planetary drive: this unit equips plant digesters for biogas production. The biogas, obtained from grinded grains and vegetables, is one of the most promising sources of renewable energy.
Other products on show include the PG-502 FS planetary drive with hollow shaft and the PG-701 PS single-stage drive. Both products can be used for pavers' conveyors and augers.
Participation at Pollutec is organized in collaboration with the French subsidiary Comer Industries Sarl, located in Serris, near Paris, an important presence in the country, which offers customer support and qualified assistance thanks to a highly specialized sales staff.