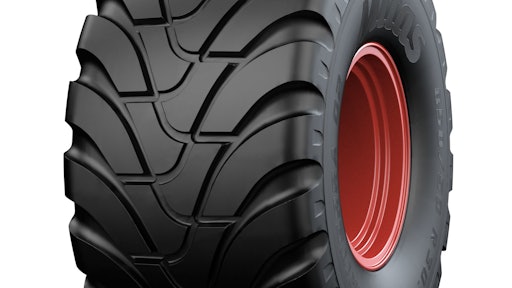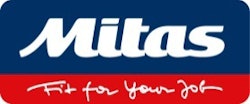 Mitas announces Agriterra 02 and Agriterra 03 flotation radial tires range extension. Nine new sizes will be available as of March 2015. One of the main advantages of Agriterra tires is their low operating costs with a positive impact on fuel consumption. Steel belt construction ensures higher loads, stability at higher speeds of more than 30 km/h and improves the tire's puncture resistance. Agriterra's tread features larger tread voids, improving the self-cleaning properties of the tire. Thanks to the well-designed tread pattern, Mitas flotation tires have an 11% larger tread contact area than premium competitors and 22% larger than competitors with a traction type of tread pattern.
"Flotation radial tires are intended for use on the heaviest agricultural implements, such as slurry tanks and grain trailers. In the first quarter of 2015 Mitas will have in the product offer 12 variations of flotation radial tires," says Pavel Kott, Mitas' Product Manager for Agricultural Tires. "Mitas is oriented on what benefits farmers. Flotation tires can bring them higher yields thanks to lower soil compaction caused by flotation tire during field operation."
With Agriterra, farmers can save on fuel costs. In comparison with premium competitor tires, fuel consumption during road transportation at 30 km/h is 8% lower. During field operation at 10 km/h, fuel consumption is 9% lower. These characteristics of Mitas Agriterra flotation tires are achieved through the unique design of the tire tread pattern.
A deep tread ensures better tire life. Mitas flotation tires can work at as low a pressure as one bar up to four bars. Better pressure distribution has a positive impact on soil compression. While comparing Agriterra with premium competitors, the permanent compression of soil after crossing of the trailer is 4% lower and even 14% lower compared with competitors with a traction type of tread pattern. Pressure can be adjusted according to application or depending on the type of surface. Agriterra tires are compatible with central inflation systems for easy and quick change of tire pressure.
Agriterra 02 850/50R30.5 IMP will be Mitas' largest flotation tire. With a diameter of 1.6 m and a radial steel belt construction, the 850/50R30.5 has a 'D' speed category allowing speeds of up to 65 km/h boasting a maximum load of 8,500 kg at 400 kPa. It will be displayed during SIMA fair at Mitas stand E016, Hall 3.
Beside three sizes of flotation tires already on offer, Mitas introduces nine new sizes available as of March 2015:
750/60R30.5 IMP AGRITERRA 03
650/65R26.5 IMP AGRITERRA 02
850/50R30.5 IMP AGRITERRA 02
710/45R22.5 IMP AGRITERRA 02
650/55R26.5 IMP AGRITERRA 02
710/45R22.5 IMP AGRITERRA 02
560/60R22.5 IMP AGRITERRA 02
600/50R22.5 IMP AGRITERRA 02
800/45R26.5 IMP AGRITERRA 02
Measurements done by the Research Institute of Agricultural Engineering, Prague and the Czech University of Life Sciences, Prague in the Czech Republic May 28 to 30, 2014. Measured on tire size 600/55 R26,5. Tractor MF8470, trailer Annaburger HTS 20 B.79.