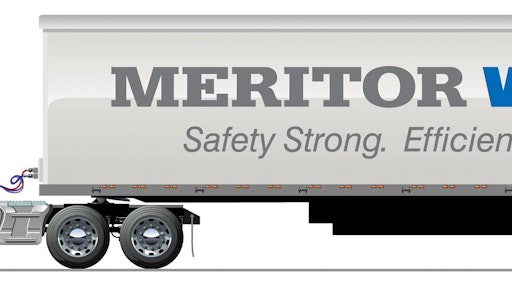 Meritor WABCO's SmartTrac portfolio of stability control systems has expanded with the addition of a new cost-saving technology to monitor suspension load and manage lift axles for trailers.
"The SmartTrac automatic trailer lift axle control system automatically raises or lowers the axle based on cargo weight," says Pat Kealy, Director, Trailer Systems and Aftermarket for Meritor WABCO. "This system helps reduce fuel costs, tire wear, vehicle downtime, and labor and maintenance costs while also increasing wheel-end and brake life."
The new product integrates with Meritor WABCO's trailer roll stability support (RSS) and anti-lock braking systems (ABS), resulting in a more cost-effective solution compared to stand-alone lift axles requiring separate electronic control units. The system is fully automated, which means commercial vehicle drivers no longer need to adjust the axle position manually. The system, which can control multiple trailer lift axles, complies with U.S. Department of Transportation legal load limits and is highly beneficial for commercial vehicle fleets that frequently reduce load during multiple deliveries.
It also is compatible with any air ride-equipped lift axle suspension on a trailer and can be configured in several ways. Axles can be lowered automatically when the trailer is parked. A manual switch can be added to give drivers the ability to lower an axle. Pressure limits are defined using Meritor WABCO's TOOLBOX RSS Configuration to comply with local road laws.
Meritor WABCO pioneered the introduction of ABS for commercial vehicles in North America in 1990. In 2002, the company was the first to launch roll stability control for pneumatically braked trucks, tractors and buses.
Today, the SmartTrac portfolio includes ABS, automatic traction control, RSS and electronic stability control. SmartTrac systems are currently used in the entire suite of commercial vehicles and trailers. These systems have demonstrated performance in assisting the driver in reducing vehicle accidents and overall operating costs.