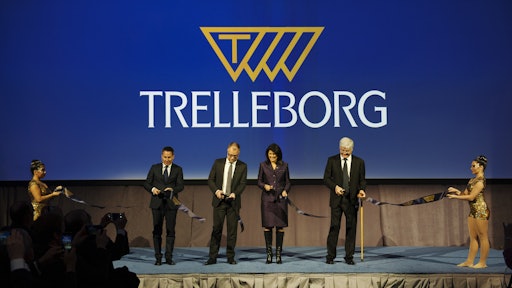 Trelleborg has inaugurated its first North American manufacturing facility dedicated to the manufacture of premium radial tires for agricultural machinery in Spartanburg, SC, in the U.S.
Representing a 50 million USD investment, the 40,000 sq. m/430,000 sq. ft. production facility expands the group's global reach in the agricultural tire market and is forecast to create around 150 jobs by 2018.
Paolo Pompei, President Agricultural & Forestry Tires at Trelleborg Wheel Systems, said, "Today, we are honored to be here cutting the ribbon to open our new tire manufacturing facility in the U.S. and to celebrate this special moment in the presence of our guests from all over the world, including representatives from leading tractors manufacturers, the Governor of South Carolina, Niki Haley, as well as Ulf Berghult, CFO Trelleborg AB, and Maurizio Vischi, President of Trelleborg Wheel Systems.
"North America is the largest agricultural market in the world and it is highly attractive for us. Demand for extra-large agricultural tires, where Trelleborg is a market leader, is growing in the region. Although we already sell our products in the U.S. and Canada, local production offers considerably more favorable conditions, thus enhancing our competitiveness.
"We are now located in a modern facility in a prime location with state-of-the-art equipment designed according to the latest Trelleborg technology standards. This means we will be able to capitalize on existing partnership agreements with major original equipment manufacturers (OEMs) and distributors, while facilitating the transfer of technology from one part of the world to another.
"The Spartanburg facility is one of the most automated manufacturing facilities in the agricultural industry. This enables us to guarantee the highest standard of production to customers across the North American market, which we are confident, will allow us to replicate the phenomenal ramp up of our Xingtai facility in China."
The inauguration of the agricultural tire facility took place on January 27. Production of agricultural tires commenced late 2015 and all manufacturing equipment will gradually be installed by 2018 to cater for market growth and ensure that OEMs, dealers and farming professionals benefit from Trelleborg's proximity and product availability. Following its grand opening in January 2016, Trelleborg customers will be able to organize factory visits to see the state-of-the-art Spartanburg facility first hand.