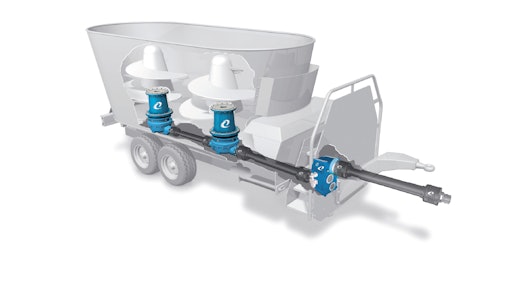 Comer Industries, through its U.S. branch Comer Industries Inc., Charlotte, NC, will be participating at Commodity Classic, the premier convention and trade show of the National Corn Growers Association, American Soybean Association, National Association of Wheat Growers and National Sorghum Producers that takes place in New Orleans, LA, USA, March 3-5, 2016 (Stand 3947, Supplier Pavilion).
Comer Industries' key innovative solutions for agricultural engineering on show will include A-613 2 Speed Gearbox, as part of the solution for vertical feed mixers, the professional series of VP driveshafts and the compact wheel drives PGR-1702 W and PGR-802 W.
The system for trailed feed mixers on display at Commodity Classic is formed by compact, high power density modular gearbox PGA-2100 VM (patent pending), by a VP professional driveshaft and by the multi-speed A-613 parallel axis unit. The A-613 transmission is quiet and highly efficient, thanks to the use of helical gears and is fitted with an electrical actuator, ready for integration with ISOBUS protocol.
Comer Industries' professional line of VP driveshafts, on show for the first time in the U.S., stands out for its advanced safety performance, easy maintenance and extended lubrication times, paired with the safety devices, such as automatic torque limiters and the system for facilitated engagement of the driveshaft to the PTO.
Comer Industries will also exhibit its line of highly compact wheel drives, Series PGR-1702 W and PGR-802 W for windrowers, which are gaining in popularity due to their increased power density design, high reliability, travel speed and mobility.
Solutions on display also include T-278 swivel box for rotary rakes and other agricultural applications and T-325 gearbox with 50 degree angle bevel gears for grain carts.