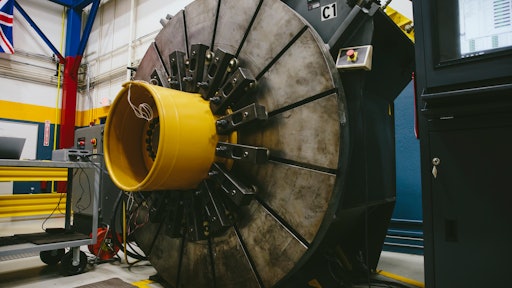 With a global presence and a commitment to meeting its customers' evolving needs, GKN Wheels & Structures has embarked on a significant multi-million pound investment program which will cover each of its seven manufacturing plants worldwide.
The company's Managing Director, Paul Wyatt, outlines the scope of this wide-ranging program, "Our clear ambition is to be the best wheel and structures organization in the world and in many respects, we are already there, with market-leading product development, test facilities and manufacturing capabilities. However, by working closely with our customers and better understanding their needs, we are constantly striving to identify improvement areas across our business. This investment program will make sure that each of our facilities continues to be truly world-class."
The largest of the projects is taking place at the company's wheels manufacturing facility at Telford in the UK, where a major program of work is already underway. Scheduled for completion by summer 2018, the project will deliver the best off-highway wheels rim line and paint facility in the world.
The investment will transform the plant into a highly-flexible operation, delivering significantly enhanced manufacturing capability, with an extended range of wheel sizes, shortened changeover times and increased batch-size flexibility. The introduction of automotive standard electro-coat and powder coat facilities will provide GKN's wheels and chassis with a 'best-in-class' finish, providing significantly enhanced resistance to salt spray.
There will be further investments in welding and painting capability at the company's plants in Lianyungang in northern China and Nagbøl, Denmark. In Estherville, USA, the second phase of a long-term investment program will begin this year. This is in addition to the recent investment in hub and spindle manufacturing and test facilities at its sister locations in the U.S. – in Armstrong and Woodridge.
Read the article "Increased Testing Capabilities Enable Improved Product Optimization" to learn more about the recent enhancements at the company's Woodridge, IL, facility.
Wyatt continues, "Our investment at Telford and our other locations is enabling us to maintain our position as leader in technology and quality, as well as delivering a significant increase in manufacturing capability and flexibility to meet the changing needs of the market. We will be able to provide customers with an increased wheel size range as well as further enhanced quality across all our plants.
"Having manufactured the world's first steel wheel in Telford in 1910, we are very proud of our history and pedigree. Thanks to the continued financial and technological support of the GKN group, we look forward to these investment programs coming on stream not only to enhance our capability, but also to reinforce our reputation for market-leading technology and quality."