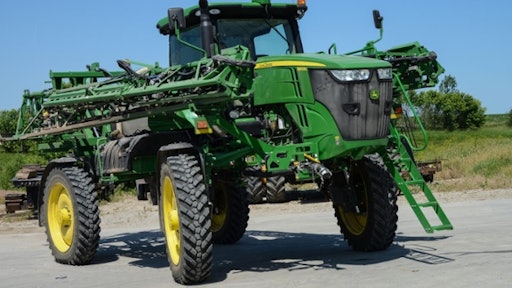 High-performance VF sprayer tires and a new IF radial implement tire will be featured attractions at Alliance Tire Group's (ATG) booth 523 at this year's Farm Progress Show. Show-goers can get a close-up look at ATG's unique Alliance Agriflex 363 VF 380/90R46 sprayer tire mounted on a John Deere R4038 and see for themselves why it's getting second looks from farmers in the field.
In the booth, ATG will provide rebates of $100-$125 off per tire on most of its IF and VF tire lineup, in addition to show-specific pricing on ATG's wide range of farm and OTR tires.
ATG will also be running a drawing for a Grand Prize set of Alliance or Galaxy tires worth up to $3,000. Each day of the show, the company will also draw a winner for a set of Yokohama Geolander light truck tires.
Designed for North American Sprayers
The Alliance Agriflex 363 VF 380/90R46 row crop tire is the first very high flexion (VF) sprayer tire designed specifically to satisfy the unique on- and off-the-road performance demands of the North American sprayer market, says James Crouch, Marketing Specialist at Alliance Tire Americas, Inc.
"Tread patterns for tractor and sprayer tires have been pretty much the same for the past 100 years," Crouch notes. "But sprayers have changed and the job has changed. Today's sprayers are self-propelled and spend almost as much time on highways as they do in the field. They're bigger, heavier, and they need to go farther faster. They're being used in all weather and almost all year long. Today's farmer needs ideas from us that offer measurable improvements over the traditional sprayer tire design."
The Alliance 363 VF breaks the traditional curved lug into tread blocks that provide more edges for traction, and features a dense center bar for a smoother ride on the road, more even weight distribution on hard surfaces, improved lateral stability in the field and longer wear. With the Agriflex 363 VF, farmers will be getting a tire that performs well on the road at high speeds without sacrificing performance in the field.
VF Tech in the Sprayer Market
"VF" stands for "Very High Flexion," a design technology that allows tires to carry the same load as conventional radials at 40% less inflation pressure.
According to Crouch, the sprayer market offers a unique opportunity for VF tires to break into the U.S. market because decreased tire pressures, better ride comfort, increased tire life and reduced soil compaction are all benefits that are meaningful to sprayer operators and owners.
Also in the ATG booth will be the Alliance 354 VF row crop tractor tire, which harnesses the same Alliance Agriflex VF construction technology as the sprayer tire. As with the 363 VF and the rest of the Alliance Agriflex line, the 354 VF features steel belted construction and special, stubble-resistant compound.
New Implement Radial
Alliance is also showcasing the new Alliance Agriflex 381 radial implement tire at its booth. The new IF tire is available in the popular 280/70R15 (11L-15) size to reduce soil compaction from large implements such as planters, drills and tillage equipment.
The tread pattern of the 381 was designed to minimize disturbance in grass, forage, and cover crops. Combining those benefits with radial construction and IF technology delivers lower total compaction from the whole pass (including the implement behind the tractor) which will ultimately help increase yield and overall farm profitability.
ATG will also have examples of its world-renowned Galaxy brand skid steer tires, including the Galaxy Hulk SDS solid tire.
Alliance Tire Group will be exhibiting in Booth 523 at the Farm Progress Show, August 28-30.