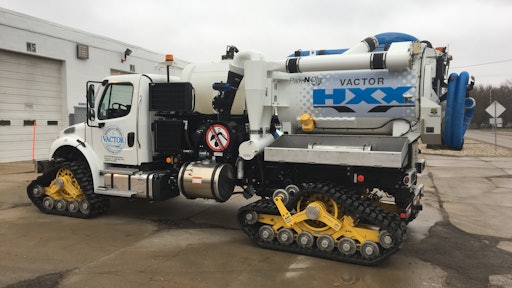 Vactor Manufacturing, the industry leader in vacuum excavators, industrial vacuum loaders and sewer and catch basin cleaners, has introduced an extreme terrain configuration of the Vactor HXX Paradigm vacuum excavator that features a Mattracks 400 Series rubber track conversion system for pipeline, utility and construction applications.
Located in Karlstad, MN, Mattracks Inc., is the leading manufacturer of rubber track conversions for commercial and industrial specialty vehicles working in a wide range of terrain and climate conditions.
"We are pleased to offer a Vactor Paradigm track configuration for our customers working in rugged, remote environments," says Ben Schmitt, Product Manager, Vactor Manufacturing. "The ability to quickly switch from tires to tracks, and to move from the road to harsh conditions and terrain, makes the multi-purpose Paradigm truck even more versatile. This is yet another example of Vactor's ongoing commitment to deliver innovative solutions that meet the ever-changing needs of our customers."
Mattracks 400 Series track system
The hub-mounted design of the Mattracks 400 Series track system facilitates a fast conversion – approximately 45 minutes in a shop – from tires to tracks. Featuring a patented rubber torsion anti-torque system and a 20-in. wide front track and a 30-in. wide rear track, this system includes steering assist and a rocker suspension.
Ideal for pipeline applications
"The track configuration of the Vactor Paradigm vacuum excavator is ideal for pipeline applications where significant ground pressure may cause damage to buried infrastructure," Schmitt says. "Previously, pipeline contractors operating vacuum trucks were required to lay down wood matting on the job site to prevent the trucks from applying too much ground pressure, a process that can be extremely time consuming and expensive."
Schmitt adds that the Paradigm track configuration's powerful vacuum and 6-in. vacuum hose provide a significant advantage to contractors performing locates every 30 ft. on a pipeline in remote conditions.
Vactor HXX Paradigm
As the latest addition to Vactor's broad product offering of water and air vacuum excavators, the Vactor HXX Paradigm truck was designed for the installation, maintenance and repair of underground water, sewer, gas, electric and telecommunications utilities. In addition, the Paradigm is ideally suited for subsurface utility engineering (SUE) contractors and other design planning firms involved in civil, road, municipal, commercial, industrial and residential projects.
This compact, multi-use truck can dig holes with water or air; vacuum, contain and dispose of drill mud; power pneumatic, hydraulic or electrical tools; and provide transport and storage of replacement parts, equipment and tools.