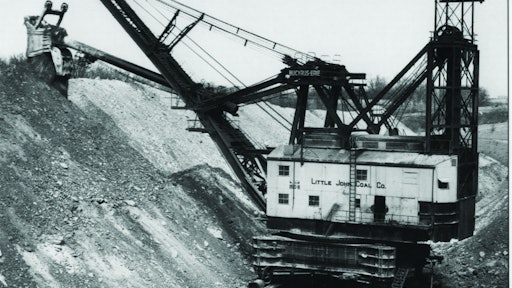 In 1915, Marion Steam Shovel Company introduced the world's first electric-powered stripping shovel, a 293-ton, 5-yard Model 271. As with steam engines, electric motors could be fitted on machines exactly where the power was needed, such as a hundred feet in the air on a shipper shaft, without having to use the drive shafts, gear trains or chains required to convey the power from a central internal combustion engine. (Remote functions on smaller, more modern machines can be powered by hydraulics or electricity from an onboard diesel engine of sufficient generating power.) Electricity was provided by a power cable from an offboard source.
Electric power for excavators was refined in 1919 when Bucyrus and Marion introduced Ward Leonard controls. Founded in 1892 in Thomaston, Connecticut, Ward Leonard is today a leading provider of electric motors and control systems for the U. S. Navy and specialized industrial applications. Ward Leonard controls used AC-powered motor generator sets to power DC motors for the machine's motions. They provided precise variable speed similar to steam, made maximum pull available at motor stall speed, and protected motors from burning out due to overload.
Electric power became standard for stripping shovels by the mid-1920s, and is still the standard for large loading shovels. Bucyrus-Erie's electric-powered, five-yard 120B, introduced in 1925, was the first shovel designed specifically for the heavy-duty demands of loading applications in mines and quarries.
Introduced in 1935, Bucyrus-Erie's 1,250-ton 950B was the first shovel to be propelled by electric motors at the crawlers. Until then, power had been transmitted from motors in the upper works through the center pintle by means of multiple bevel and spur gear trains, shafts, jaw clutches and chains to the driving wheels or tracks. All of this hardware was replaced by a motor in each of the crawler assemblies. This became standard for all stripping shovels, and the largest shovels would have a propel motor on each individual crawler. These motors were not built for speed; stripping shovels traveled at a stately 1/4 mile per hour or so. Rated at 30 yards, the 950B was the largest capacity shovel to date, and it was also the first Bucyrus-Erie machine to use hydraulic leveling.
The Historical Construction Equipment Association (HCEA) is a 501(c)3 non-profit organization dedicated to preserving the history of the construction, dredging and surface mining equipment industries. With over 4,300 members in twenty-five countries, our activities include operation of National Construction Equipment Museum and archives in Bowling Green, Ohio; publication of a quarterly magazine, Equipment Echoes; and hosting an annual working exhibition of restored construction equipment.
Individual memberships are $30.00 within the USA and Canada, and $40.00 US elsewhere. We seek to develop relationships in the equipment manufacturing industry, and we offer a college scholarship for engineering students. Information is available at www.hcea.net, or by calling 419-352-5616 or e-mailing info@hcea.net.