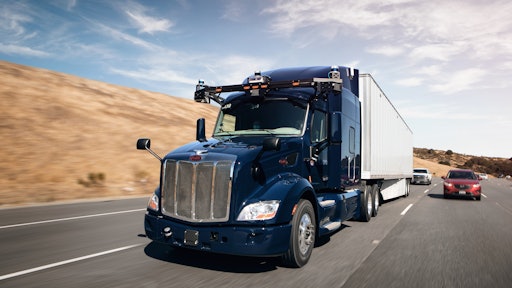 Aurora
While the first week of February was the week of electrification, this past week felt like the week of automation as two major OEMs—Scania and New Flyer—announced availability and testing of Level 4 autonomous vehicles.
Bus manufacturer New Flyer announced on Feb. 1 the launch of its Xcelsior AV autonomous bus. While possibly better known for some of its battery-electric and other alternatively powered vehicles, New Flyer is looking to improve public transportation in a variety of ways, including through development of autonomous vehicles.
The bus is battery-electric powered, using technology from the company's Xcelsior CHARGE electric bus.
Autonomous operation is made possible through the inclusion of self-driving technology from Robotic Research. Its AutoDrive system acts as the eyes and brains of the vehicle by processing information from the environment in which the bus is operating. Meanwhile, its AutoDrive ByWire system acts as the hands and feet, controlling most of the bus' movements.
These systems are designed to control a majority of the bus driving functions, enabling it to meet the SAE Level 4 designation for autonomous vehicles in which a human driver is not required when the autonomous driving functions are engaged.
New Flyer will be testing the bus with the Connecticut Department of Transportation (CTDOT) in the coming year. An operator will be in the driver's seat as a safety precaution.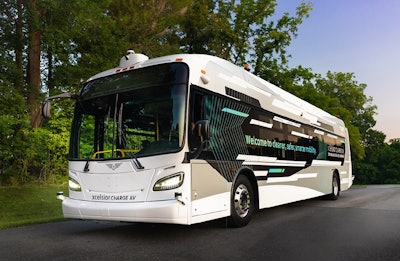 Scania has also announced it will begin testing its Level 4 autonomous driving technology on the E4 motorway in Sweden. The company will collaborate with autonomous vehicle developer TuSimple.
The vehicles will transport goods for Scania's production operations, traveling between Södertälje and Jönköping. Later in 2021, Scania says it intends to expand the test route further.
This is not Scania's first experience with autonomous vehicles. Like many other heavy equipment manufacturers, it has been testing its technology in mining applications for several years now. Mining is one of the industries in which autonomous vehicles have been able to prove their capabilities and benefits because of the more private work environment and repetitiveness of the driving tasks.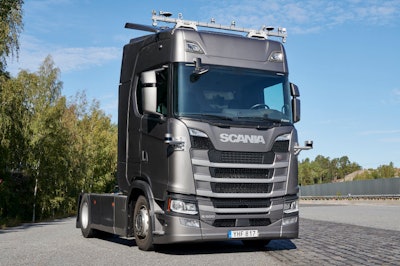 READ MORE: Scania and Rio Tinto Trialling Autonomous Truck in Western Australian Mine
In 2019, Scania unveiled a cabless autonomous concept truck which is steered and monitored by an intelligent control environment. Like other OEMs, it envisions autonomous vehicles of the future will likely not need an operator cab because all driving functions are controlled via hardware and software, and/or by an operator in a remote location.
Concept vehicles like this may be years away from becoming available in the market, but help manufacturers to test out their designs so that they are ready when the market is.
Investments in autonomous vehicle technology
Scania project collaborator TuSimple has also been developing autonomous vehicle systems for several years, and partnered with many OEMs to help advance autonomous vehicles. Just last year it announced partnerships with:
Navistar - The companies intend to co-develop Level 4 self-driving trucks and begin production on them by 2024.
ZF -

TuSimple

and ZF will co-develop technologies which enable autonomous operation such as steering and sensor technologies.

Goodyear

- The companies will evaluate how autonomous trucks and tires can help better predict maintenance and tire life.
Through these types of partnerships, the company can better evaluate how its technology would be implemented in real vehicles and used by customers. TuSimple recently announced investments from several logistics companies including U.S. Xpress, Werner Enterprises and Schneider National which are looking to test and evaluate the potential of autonomous technology for their fleets.
As part of its autonomous vehicle development efforts, TuSimple has also recently joined the Self-Driving Coalition for Safer Streets. The coalition's mission is to work with lawmakers, regulators and the public to educate them on the safety as well as societal benefits possible with autonomous vehicles. It is comprised of various technical companies, like TuSimple, which bring together their expertise to aid with those education efforts and help advance autonomous vehicles in the market.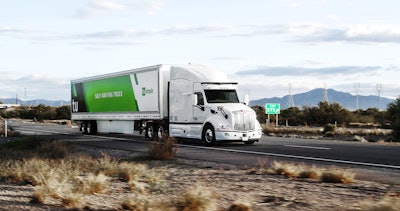 To aid those who are developing autonomous vehicles and systems, companies like dSPACE continue to develop and expand the capabilities of their design tools. Most recently, dSPACE and its group company understand.ai, which it acquired in 2019, announced they would offer a new service that generates simulation scenarios from recorded measurement data used to validate functions for autonomous driving and driver assistance. The company says this will help those who are developing autonomous vehicles to do so more quickly and easily through the use of realistic simulation.
"With the Scenario Generation Service, we bring the complexity of the real world into simulation and enable validation with thousands of relevant and critical simulation scenarios," says Product Manager Thorsten Püschl, in dSPACE's press release announcing the new service.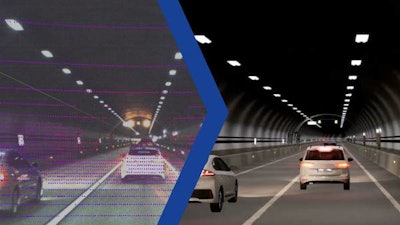 According to dSPACE, the Scenario Generation Service uses existing sets of data recorded during measurement runs. In a highly-automated process, AI-based annotation solutions from understand.ai extract the relevant information from the raw data of the vehicle sensors. This creates realistic and consistent simulation scenarios. Data from object lists can also be used for scenario generation.
The company says generated scenarios are used to create exact reproductions of real driving situations in the simulation that help simulate events from test drives in the laboratory or compare simulations of sensor models with measurement data for sensor model validation. Generating logical simulation scenarios helps create many new, previously unknown corner cases as simulations via scenario-based testing, thus enabling the testing of driving functions with a large number of relevant and critical situations. The Scenario Generation Service can also create the road model required for the simulation based on the sensor data. Alternatively, HD maps can also be used.
The generated scenarios can be immediately used in the dSPACE ASM simulation environment as well as the in existing dSPACE infrastructure for powerful software-in-the-loop (SIL) and hardware-in-the-loop (HIL) testing across multiple development stages.
Watch our video interview with Jace Allen, Director – ADAS/AD Engineering and Business Development at dSPACE, to learn more about current design trends and tools for autonomous vehicles.
Scania and New Flyer are of course not the first companies to test their autonomous vehicles on roadways. In 2018, Volvo Buses announced it was partnering with a technological university in Singapore to research and develop autonomous buses for public transportation.
The Volvo Group has been testing autonomous vehicles for years, particularly in confined work sites like mines and quarries. It believes in the benefits of autonomous vehicles so much that in 2019 it created a new business dedicated to the development of autonomous vehicles and systems. Volvo Autonomous Solutions will accelerate the development, commercialization and sales of autonomous transport solutions in a variety of industries, including mining and heavy-duty on-road transport.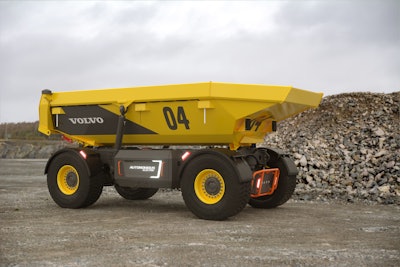 "We have experienced a significant increase in inquiries from customers. With the Volvo Group's wide range of offerings and broad experience of different applications, we have a unique opportunity to offer solutions that meet their specific needs. It is a logical next step for us to gather expertise and resources in a new business area with profit and loss responsibility to take autonomous transport solutions to the next level," says Martin Lundstedt, President and CEO, in the company's press release announcing the new business.
READ MORE: SANY Demonstrates Fleet of Autonomous Rollers and Pavers
In September 2020, Daimler Trucks North America and Torc Robotics celebrated the 1 year anniversary of their autonomous vehicle collaboration. The companies' goal is to bring series-produced highly automated trucks, i.e. those which meet SAE Level 4 criteria, to roadways within the decade.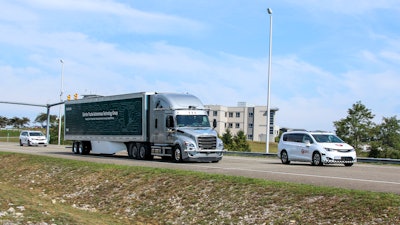 Daimler and Torc have been testing autonomous trucks on public roads in southwest Virginia; closed track testing is also being conducted at Daimler's proving grounds in Oregon. They are looking to expand public test routes, as well.
Though it will likely be some time yet before fully autonomous vehicles become a common site on roadways, development efforts like these show the push of the industry to bring them closer to reality.
How do you see autonomous vehicles progressing in the coming years? What technology or other aspects are yet needed to help make these vehicles a reality? Let us know by emailing editor@oemoffhighway.com.
Companies in this article